Exhibition: George Desvallières, la peinture corps et âme
---
Since last March 15th and until July 17th next, the Petit Palais dedicates a retrospective to painter George Desvallières (1861-1950), the first of its kind. Soldier during the Great War, he was one of the first to turn towards the sacred art of the return from the front; but also to represent the bereavement pain and the violence of the fight, notably for major commissions. This exhibition highlights the central place that human figure played in the artist's works, as a heroic embodiment of a burning spirituality. His paintings are thus an incessant backward and forward between body and mind, carnal and spiritual. A dialogue which gave its name to the event: "George Desvallières: La peinture entre corps et âme". This event can be visited at the bottom of the Champs-Elysées Avenue, a few underground stations from the Green Hotels Paris, the Eiffel Trocadéro and the Gavarni.
"George Desvallières: La peinture corps et âme" exhibition, from March 15th to July 17th 2016.
Open Tuesday-Sunday from 10am to 6pm.
Nocturnal on Friday until 9pm.
Full rate: €10 / Concession: €7.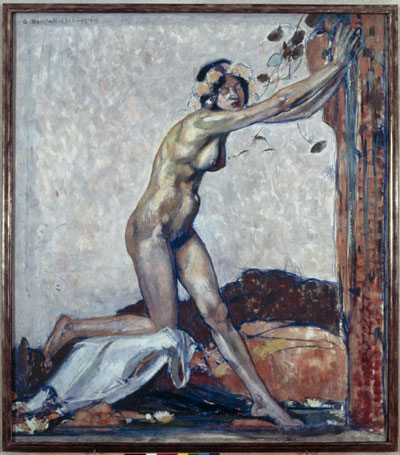 George Desvallières, La Naïade, 1914 Oil on canvas, 161x140 cm.
Private collection - ©ADAGP, Paris - Ph Henriot
Petit Palais
Avenue Winston Churchill
75008 Paris
France
Tel: +33 (0)1 53 43 40 00
Metro: Champs-Elysées Clemenceau (lines 1 and 13).