In 2018, the Marjolaine fair celebrates the beautiful practices of organic farming!
---
From November 3rdto 11th, 2018, Marjolaine, the most important organic fair, is back at the Parc Floral de Paris. This year, France's largest organic market celebrates "the beautiful practices of organic farming". Focus on this must-attend event of the autumn.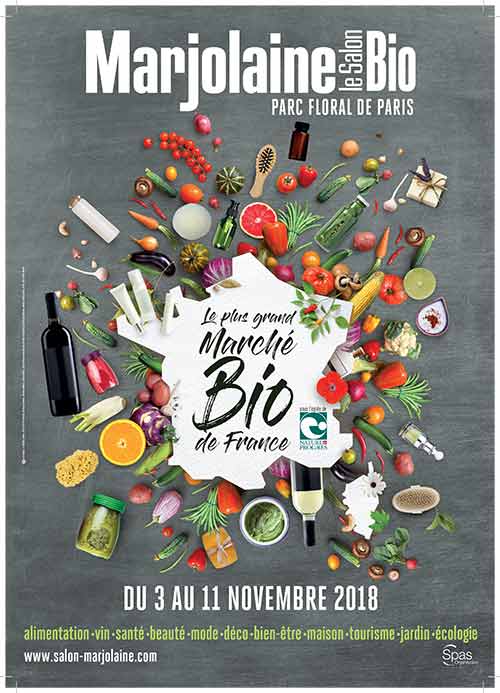 © Spas Organisation
Marjolaine 2018: zoom on what's new at the show
For this 2018 edition, the Marjolaine show will highlight the actors in the organic industry who will share their experiences and favourites. Visitors will not only be able to exchange with them about ecological issues, but also participate in workshops to learn about organic and ecological actions that transform everyday life. Thus, making your own soap or bread will no longer be a mystery to you! The Marjolaine will also feature more than 560 exhibitors presenting their ethical and organic products in the fields of health, gastronomy, decoration, fashion and cosmetics. Thematic trails will allow festival-goers to better locate themselves on the site. The first will focus on the trend of products "without": sugar, gluten, lactose or additives; the second will focus on vegetarianism. A Slow Life space will also be set up to showcase good practices in naturopathy, meditation and yoga. Of course, as every year, the Marjolaine fair will organize many conferences and DIY workshops for all ages. Don't miss this new edition that promises to be rich and exciting!
Salon Marjolaine (website only available in French), from 3rdto 11thNovember 2018.
Open from 10:30a.m. to 7p.m.
Late hours until 10p.m. on FridayNovember 9th, 2018.
Full rate: €10 / Concession (students): €7 / Free for those under 12.
All exhibitors' products are available on the Sevellia website (only available in French), the online shop of the Marjolaine organic show.
Parc Floral de Paris (website only available in French)
118, route de la Pyramide
75012 Paris
France
Tel: + 33 (0)1 49 57 24 84
Metro: Château de Vincennes (line 1).