Exhibition: Miró
---
From the 3rd of October 2018 to the 4th of February 2019, the Grand Palais will host a retrospective entirely dedicated to the Catalan surrealist painter Joan Miró (1893-1983); a first since 1974. This exhibition brings together nearly 150 major works by the artist, including paintings, drawings, ceramics, sculptures and illustrated books, thanks to loans from major international museums. Through the scenography that reflects Miró's Mediterranean universe, visitors discover in chronological order all the periods of the painter's artistic creation - fauvist, cubist, detailist and surrealist. It is in surrealism that Joan Miró found the joy and artistic medium dear to his heart, which allowed him to invent a poetic world never seen before in painting. This exceptional event is to be discovered a few metro stations from the Green Hotels Paris, the Eiffel Trocadéro and the Gavarni.
Exhibition "Miró", from the 3rdof October 2018 to the 4thof February 2019.
Open on Mondays, Thursdays and Sundays from 10a.m. to 8p.m.
Nocturnal on Wednesday, Fridays and Saturdays until 10p.m.
Closed on Tuesday.
Full rate: €15 / Concessions (16-25): €10 / Free for those under 16.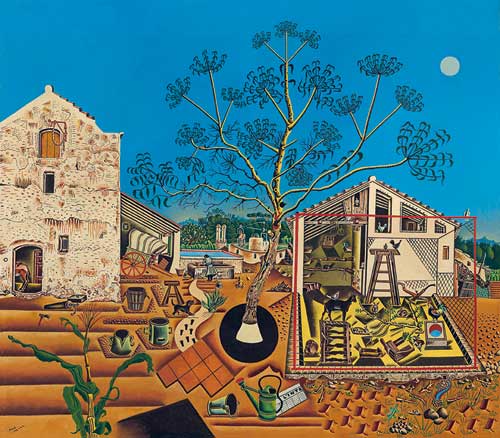 Joan Miró
The Farm
1921-1922
oil on canvas; 123,8 x 141,3 cm
United States, Washington
National Gallery of Art
donation fromMary Hemingway, 1987
© Successió Miró / Adagp, Paris 2018
Photo National Gallery of Art, Washington
Grand Palais
3, avenue du Général Eisenhower
75008 Paris
France
Tel: +33 (0)1 44 13 17 17
Metro: Champs-Elysées-Clemenceau (lines 1 and 13) or Franklin Roosevelt (lines 1 and 9).