Exhibition: Vietnam
---
From July 3rd to November 4th, 2018, the musée Cernuschi is putting on a free exhibition called "Vietnam, new acquisitions". Thanks to exceptional donations, the permanent collections of the musée Cernuschi are adorned with unique works of Vietnamese art. Along the way, you will be able to admire pieces of Vietnamese archaeology such as the four white sandstone jars from the ceramic productions of the Lý (1009-1225) and Trần (1225-1400) dynasties. Another precious creation is presented: the "Swimming" of Mai Thứ (1906-1980), the famous painter who graduated from the first class ever of the Ecole des beaux-arts of the Indochina. Finally, the donation of Mr Marcel Schneyder, son of René Schneyder, a senior civil servant in Indochina from 1924 to 1951, reveals a collection of thirteen works from the fine arts schools of Cochin China from the 1930s and 1940s. These jewels can be discovered only a few metro stations away from the Green Hotels Paris, the Eiffel Trocadéro and the Gavarni.
Exhibition"Vietnam, new acquisitions", from July 3rdto November 4th, 2018.
Open every day from 10a.m. to 6p.m., except on Mondays and bank holidays.
Free entry.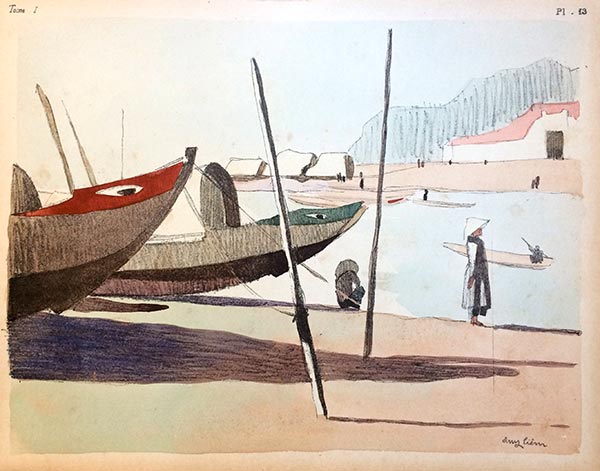 Sampans moored
Indochina hand-drawn monograph, Annam, Volume I, TRẦN DUY LIÊM (1914 – 1994), 1938, edition of an original lithograph Donation of Mr. Marcel Schneyder in memory of his parents, Thérèse and René Schneyder, 2017
Musée Cernuschi
7, avenue Vélasquez
75008 Paris
France
Tel: +33 (0)1 53 96 21 50
Metro: Monceau (line 2).