Girafe: the seafood brasserie at the Palais de Chaillot
---
It is in the heart of the Cité de l'Architecture et du Patrimoine, in the sumptuous Palais de Chaillot, that the new gastronomic sensation of the season has opened its doors: Girafe.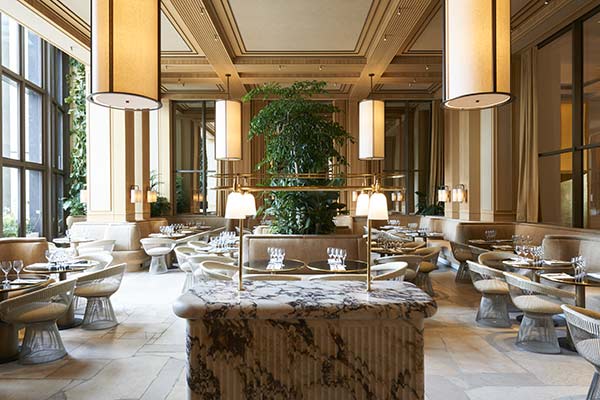 Girafe Restaurant Room © Adrien Dirand
Girafe: the chic brasserie that revisits the sea cuisine
Behind this luxury brasserie specialising in fish and seafoodis the restaurateur Gilles Malafosse, to whom we owe Monsieur Bleu at the Palais de Tokyo (website only available in French). He has teamed up with Laurent de Gourcuff and architect Joseph Dirand to design a place with a 1930's spirit that offers a contemporary marine cuisine. There, the menu revolves around seven ocean stars: lobster, red mullet, turbot, sea bass, Atlantic tuna, sole and sea bream. They are offered in raw, cooked or exotic versions. Thus, the bar is served as a carpaccio with olive oil and citrus fruits, the sea bream as a sashimi with mango and passionfruit. The Girafe restaurant also serves salads and seafood platters. Only two meats are displayed on the menu. For dessert, you can try the fine pastry tart with caramelized figs, vanilla whipped cream. As for the design, we love the beige, oak or smoked tones that envelop the place. The highlight of the show? The superb Girafe panoramic terrace with a stunning view on the Eiffel Tower. As a bonus, the establishment is only a few minutes' walk away from the Green Hotels Paris, the Eiffel Trocadéro and the Gavarni!
Open from Monday to Friday, from noon to 3p.m., and from Thursday to Saturday, from 7p.m. to 11.30p.m.
First course: from €18 to €31 / Main course: from €26 to €53 / Desserts: from €13 to €32.
Seafood platters: €55 and €250.
Salads: from €19 to €39.
Valet parking service.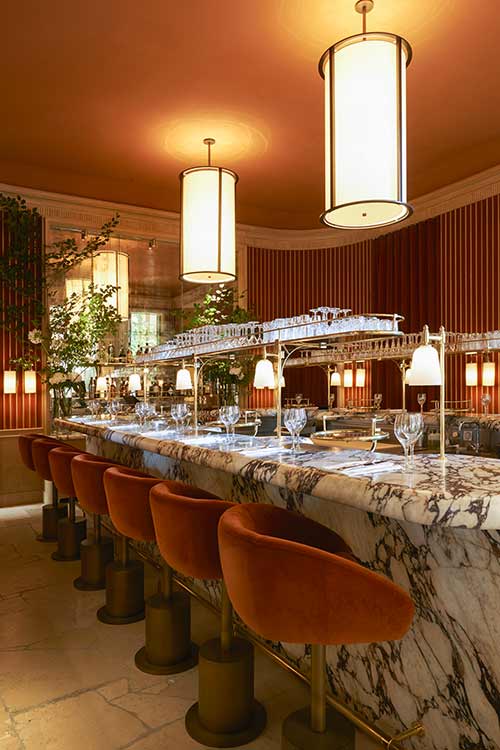 Girafe Bar © Adrien Dirand
Girafe Restaurant
1, place du Trocadéro
75016 Paris
France
Tel: +33 (0)1 47 62 70 61
Metro: Trocadéro (lines 6 and 9).