Exhibition: Poison
---
From October 10th, 2018 to August 30th, 2019, the Palais de la Découverte will thrill you with its new scientific exhibition "Poison". For the first time in France, this frightening and fascinating retrospective will bring together thirty of the world's most venomous and poisonous species of live animals: lizards, frogs, snakes, spiders, not to mention scolopendras and scorpions. Displayed in terrariums that mimic their natural environments, these animals can be observed in complete safety. On the spot, you will learn that their venom is a dangerous, potentially deadly substance, but nevertheless hides precious molecules that can be used, for example, to make medicines. Captivating and entertaining, this event will excite audiences of all ages, as well as reptile lovers.
The major bonus: This exhibition is available in three languages, French, English and Spanish.
Exhibition "Poison", from October 10th, 2018 to August 30th, 2019.
Open every day, except on Mondays, from 9.30a.m. to 6p.m., and on Sundays from 10a.m. to 7p.m.
Closed on Mondays, on December 25th, 2018, on January 1st and May 1st, 2019.
Full rate: €9 / Concessions (under 25 / 65 and more): €7 / Free for those under 6.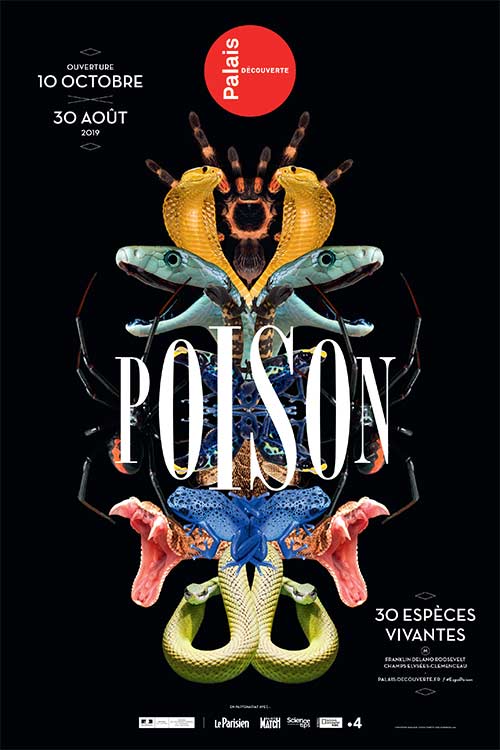 Thomas Dimetto AD&F / Supernice © 2018
Palais de la Découverte
Avenue Franklin Delano Roosevelt
75008 Paris
France
Tel: +33 (0)1 56 43 20 20
Metro: Champs-Elysées Clemenceau (lines 1 or 13).