Exhibition: Egon Schiele
---
For the first time, the Fondation Louis Vuitton is devoting a monographic exhibition to a major artist: the Austrian painter and poet Egon Schiele (1890-1918). From October 3rd, 2018 to January 14th, 2019, the public will be able to admire 120 artist's works (drawings, gouaches, paintings) in a scenography divided into four parts. Each section represents a facet of Egon Schiele's art: the ornamental line, the expressive line, the combined line and the amputee and fragmented line. Tragically disappeared in 1918, swept away by the Spanish flu, the master of expressionism nevertheless left behind him an important collection: almost 300 paintings and several thousand drawings. His works are recognisable among all thanks to the themes they evoke: the expression of desire, introspection or even, the distortion of bodies. A must-see retrospective from the start of the school year can be discovered a few metro stations away from the Green Hotels Paris, the Eiffel Trocadéro and the Gavarni.
Exhibition "Egon Schiele", from October 3rd, 2018 to January 14th, 2019.
Open on Mondays, Wednesdays and Thursdays from 11a.m. to 8p.m., on Fridays from 11a.m. to 9p.m. and on weekends from 9a.m. to 9p.m.
Closed on Tuesdays, December 25th, 2018 and January 1st, 2019.
Full rate: €16 / Concession (for under 26 y/o): €10 / Concession (for under 18 y/o): €5.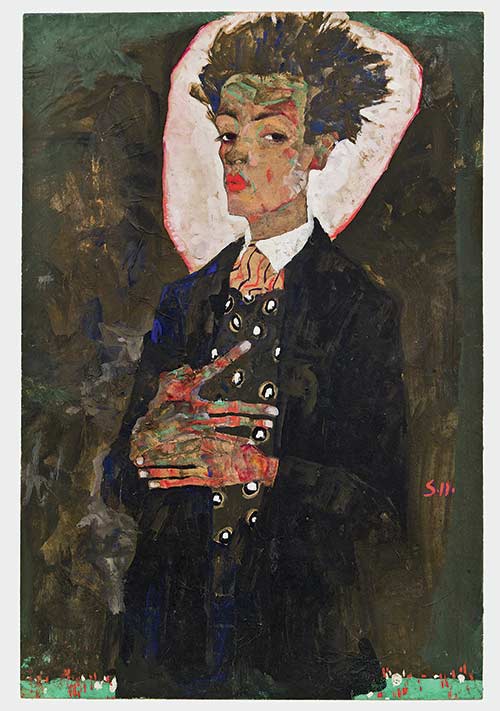 Egon Schiele
Self-Portrait with Peacock Waistcoat, Standing, 1911
Gouache, watercolour, and black crayon on paper, mounted on cardboard
51,5 x 34,5 cm
Collection of Ernst Ploil, Vienna
Fondation Louis Vuitton
8, avenue du Mahatma Gandhi
Bois de Boulogne
75116 Paris
Tel: +33 (0)1 40 69 96 00
Metro: Les Sablons (line 1).