30th edition of the Biennale Paris at the Grand Palais
---
From the 8th to the 16th of September 2018, the Grand Palais will host the 30th edition of the Biennale Paris (formerly Biennale des Antiquaires), an exceptional event for all art lovers and collectors. This year, French fashion designer Jean-Charles de Castelbajac will take artistic direction of the festival and bring his colourful and polymorphic touch. In addition to the 70 galleries on site, the Biennale Paris also offers an exhibition called "Napoléon, l'Empereur sous la verrière" ("Napoleon, the Emperor under the glass roof"). This retrospective presents a selection of Napoleon's iconic pieces from the private collection of Pierre-Jean Chalençon, his most ardent admirer. His outstanding Napoleonic collection, one of the most important in the world, includes not only the personal effects of the Emperor, but also those of his relatives. You can admire these remarkable pieces a few subway stations from the Green Hotels Paris, the Eiffel Trocadéro and the Gavarni.
The Biennale Paris, from the 8th to the 16th of September 2018.
Open every day from noon to 8p.m.
Late hours on Thursday 13th September 2018 until 11.30p.m. and on Friday 15th September 2018 until midnight.
Full rate: €35 / Concession (12-26 y/o): €20 / Free for under 12.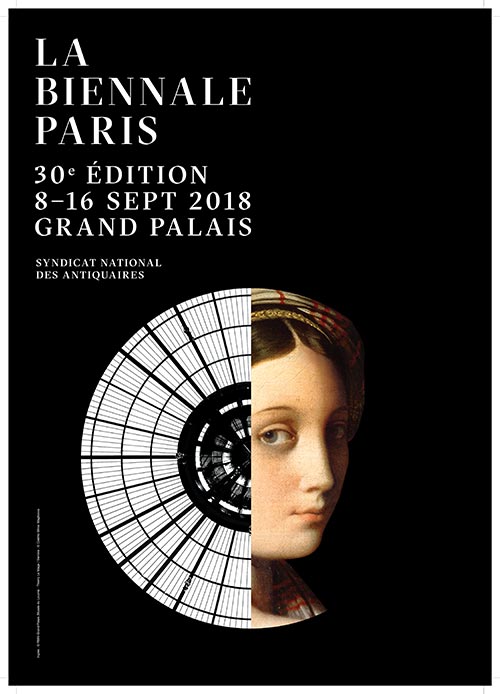 Poster The Biennale Paris 2018
Ingres: © RMN - Grand Palais (Musée du Louvre) - Thierry Le Mage
Glass roof: © Cosimo Mirco Magliocca
Grand Palais
3, avenue du Général Eisenhower
75008 Paris
France
Tel: +33 (0)1 44 13 17 17
Metro: Champs-Elysées-Clemenceau (lines 1 and 13) or Franklin Roosevelt (lines 1 and 9).