Exhibition: Jakuchū. The colorful kingdom of living beings
---
It is from September 15th, 2018, and for one month only, that the Petit Palais presents, for the first time in Europe, the artworks of the Japanese painter Itō Jakuchū (1716-1800) with the exhibition "Jakuchū. The colorful kingdom of living beings". Thanks to exceptional loans, visitors can admire the set of thirty hanging scrolls entitled Dōshokusai-e (The Colorful Kingdom of Living Beings), which the artist of the Edo period (1603-1867) designed for the Kyoto Temple in Japan. With an extraordinary talent, Ito Jakushū creates picturesque scenes of nature on silk, in which fish, birds, flowers, cats and trees seem almost real. With brio, the Japanese artist mixes and applies the different techniques of traditional Japanese painting, which confers a remarkable finesse to his creations. This unique event occurs only a few metro stations away from the Green Hotels Paris, the Eiffel Trocadéro and the Gavarni.
Exhibition "Jakuchū. The colorful kingdom of living beings", from September 15th to October 14th, 2018.
Open from Tuesday to Sunday, from 10a.m. to 6p.m.
Nocturnal on Friday until 9p.m.
Full rate: €11 / Concession (18-26 y/o): €9 / Free for under 18.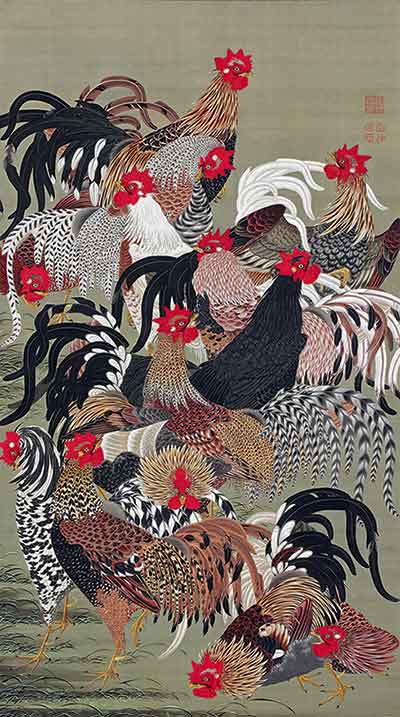 Itō Jakuchū – Roosters
(one of thirty scrolls of Images of the colorful kingdom of living beings)
The Museum of the Imperial Collections (Sannomaru Shōzōkan), Tokyo 1765
Petit Palais
Avenue Winston Churchill
75008 Paris
France
Tel: +33 (0)1 53 43 40 00
Metro: Champs-Elysées Clemenceau (lines 1 and 13).