Exhibition: Impressionists in London
---
With the help of the world's greatest museums, the Petit Palais is focusing on an important period in the lives of impressionist painters: their exile to London. Following the 1870 Franco-German war and the Commune insurrection, Claude Monet (1840-1926) and Camille Pissarro (1830-1903) were the first two impressionists to move to London in the late 1870s. They were joined by Alfred Sisley (1839-1899), Alphonse Legros (1837-1911), James Tissot (1836-1902) and sculptors Auguste Rodin (1840-1917), Jules Dalou (1838-1902) and Jean-Baptiste Carpeaux (1827-1875). 140 works from the most beautiful international collections are displayed, including the Tate Britain and the Victoria and Albert Museum in Great Britain, as well as the Metropolitan Museum of Art in New York, USA. Some paintings were even lent by the Musée d'Orsay in Paris. This event offers the opportunity to learn more about one of the most fascinating artistic movements and its major representatives. The retrospective "Impressionists in London" is available just a few metro stations away from the Green Hotels Paris, the Eiffel Trocadéro and the Gavarni, from June 21st to October 14th, 2018.
Exhibition "Impressionists in London. French artists in exile, 1870-1904", from June 21st to October 14th, 2018.
Open from Tuesday to Sunday, from 10a.m. to 6p.m.
Nocturnal on Friday until 9p.m.
Full rate: €13 / Concessions (18-26): €11 / Free for those under 18.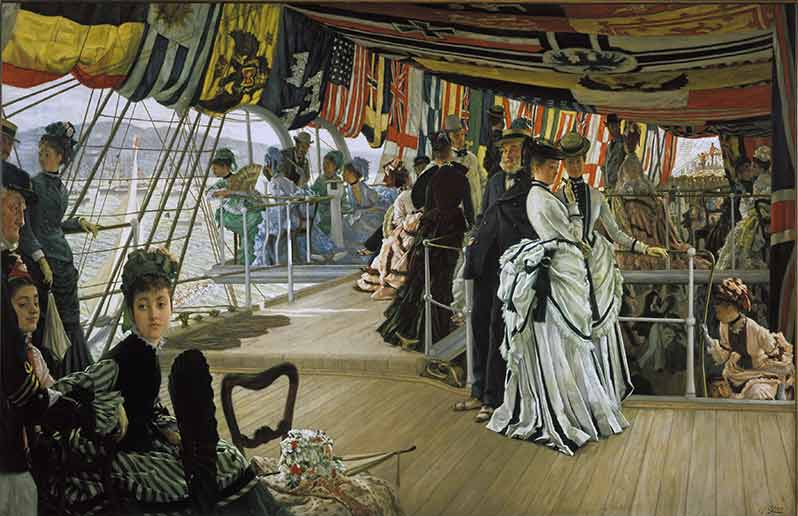 James Tissot, Ball on Shipboard, circa 1874, oil on canvas.
Tate, London, gift from The Trustees of the Chankey Bequest, 1937.
© Tate 2017. Photo: David Lambert.
Petit Palais
Avenue Winston Churchill
75008 Paris
France
Tel: +33 (0)1 53 43 40 00
Metro: Champs-Elysées Clemenceau (lines 1 and 13).