Exhibition: Explorez Mars
---
With its new exhibition made by the Cité de l'Espace of Toulouse, the Palais de la Découverte invites us to live a fascinating trip until the planet Mars. Divided in six areas, the "Explore Mars" ("Explorez Mars") retrospective invites us to discover the particularity of the Martian landscapes, their story and characteristics. If you have ever wondered what temperature it is on the red planet, or what the colour of the Martian sky is, or even how far away Mars from the Earth is, your questions will find their answers here! As we go along the visit, we are also plunged into diverse exploration missions of the site, thanks to the presentation of five life-size models of Rovers. In this way, we can closely admire the Sojourner, Opportunity or even Spirit robots, which must deliver the mystery of water on Mars. This fantastic universe will thrill young and old alike.
"Explore Mars" ("Explorez Mars") exhibition, from February 9th to August 28th 2016.
Open daily (except on Monday) from 9:30am to 6pm and on Sunday from 10am to 7pm.
Exceptional openings until 7pm every Saturday until August 16th 2016.
Full rate: €9 / Concession (under 25 years and over 65 years): €7.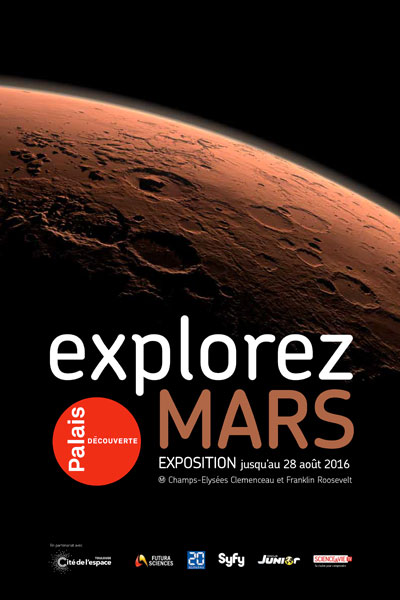 Explore Mars - ©SDP
Palais de la Découverte
Avenue Franklin Delano Roosevelt
75008 Paris
France
Tel: +33 (0)1 56 43 20 20
Metro: Champs-Elysées Clemenceau (lines 1 and 13).