Newmanity: the new environmentally-friendly mailbox
---
Newmanity Mail is an electronic email service launched in 2015 which guarantees a protection of our personal data and a decrease of our carbon footprint; the aim being to create an economic model in the ethical Internet. Founded in 2012 by Victor Ferreira, creator of the fair trade brand Max Havelaar, the website was originally a social network dedicated to the civic commitment (NGO campaigns, petitions etc.).
A green datacenter
Massive use of digital exchanges has a strong ecological impact: the essential of this pollution comes from datacenters, which require lot of energy. The sending of email with an attached document of 1 Mo would represent 20 grammes of CO2 emitted. Newmanity Company get equipped with a green datacenter, based in Holland, fueled by renewable resources in order to limit all energy loss. The latter uses the free cooling technique, which the principe is maintaining an adapted temperature, using a maximum the ambient outdoor air, and thus as little air conditioning as possible. To neutralise the remainder of carbon, the start-up is associated with Reforest'Action, which guarantees the planting trees in the Sine Saloum region, in Senegal. This partnership also enables to feed the population and to provide construction wood.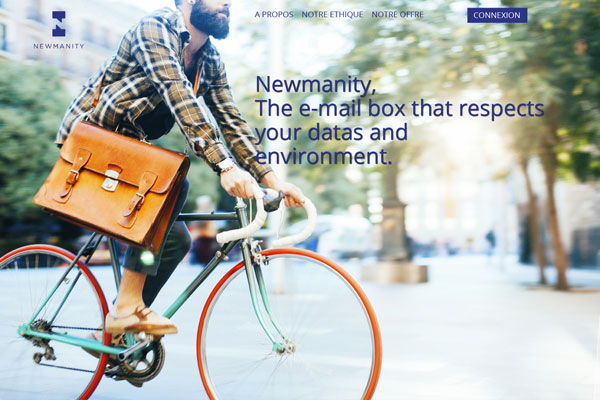 © Newmanity
This email service is free, but since a few days, a paying version has been launched for professionals, whose 20% of collected money will be donated to environmentally responsible actions.
Another nice way to go a step further towards a more ecological lifestyle!