A giant vegetable garden on the Champs-Elysées!
---
From June 5th to June 7th 2015, the legendary Parisian Avenue des Champs-Elysées, located close to the Green Hotels Paris, turns into a giant vegetable garden and farmer's market, in order to promote the French excellence production. This unique event, dubbed Le Goût des Champs (Flavor of the Fields), falls within a quality-based approach, in which exhibitors commit to producing an agriculture based on the principle of local sustainable development. Each product contains clear and detailed information concerning its origin, variety and source, observing the quality charter (in French) of this event largely focused on sensitivity to environment. 120 exhibitors will then settle on the Champs-Elysées (temporarily closed to traffic for the duration of the event) and will be at the disposal of potential buyers, or simply curious bystanders regarding any question concerning their production. Chemical input and pesticide reduction, limited use of water to prevent waste, production diversity, development of biodiversity, improvement of the ecosystem... each product meets the norms of organic farming or "highly sustainable" agriculture. A farmer's market to be missed under no circumstances!
Le Goût des Champs (in French), from June 5th to June 7th 2015, from 10am to 7pm.
Late opening on June 5th 2015, until 10pm.
Free entrance.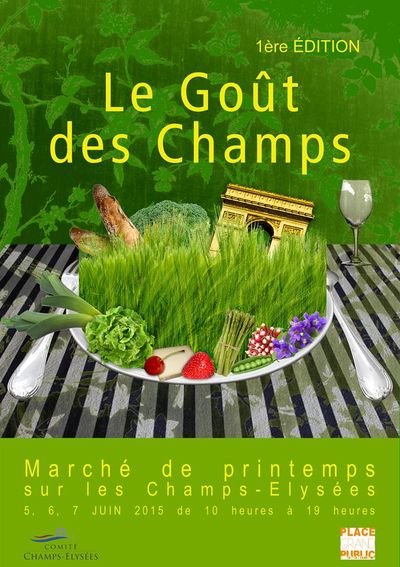 Official poster of the 1st edition of the Goût des Champs © Facebook Le Goût des Champs
Champs-Elysées farmer's market
Halfway between the traffic circle of the Champs-Elysées and the Place de la Concorde
75008 Paris
France
Tel: +33 (0)1 49 42 70 94
Metro: Franklin D. Roosevelt (lines 1 and 9), Champs Elysées–Clémenceau (lines 1 and 13) and Concorde (lines 1, 8, and 12).