La Boîte à Champignons: Oyster mushrooms with coffee grounds
---
La Boîte à Champignons project is a French society which produces mushrooms from recycled coffee grounds. The brand markets oyster mushrooms "Monte Cristo" to professionals, but also to private individuals in the form of ready-to-use kits. This is a real godsend for food lovers and city-dwellers looking for nature!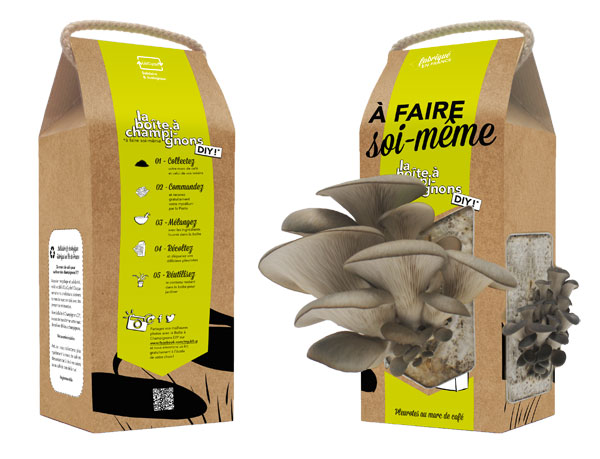 © Anne-Claire Dujardin - Graphics: Mélanie Duroux
A mushroom with a unique taste
Coffee grounds are salvaged from automatic coffee machines in train station or companies, to be thus used as compost for the oyster mushrooms. They are then sent to the Atelier Sans Frontière, a foundation which helps people in need to find a job again. Mycelium (vegetative part of the mushroom) and wood are then added to the coffee grounds, the whole thing wrapped in plastic bags. After 3 weeks, the oyster mushrooms appear! The brand is often requested by restaurant owners, as Michelin-starred chefs Yannick Alléno or Alain Passard, seduced by these atypical products. More and more startup companies, as Ooho, suggest original concepts for a more sustainable and eco-friendly lifestyle.
For a ready-to-use mushrooms box: €15.90 the grey oyster mushrooms and €19.90 the yellow oyster mushrooms. For a DIY mushrooms box: €15.90.
Discover La Boîte à Champignons (in French).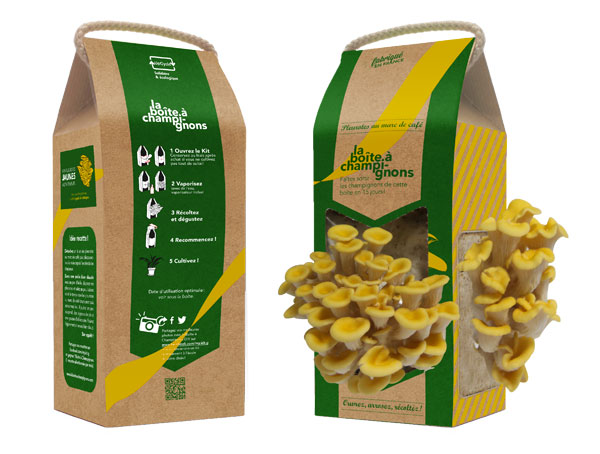 © Anne-Claire Dujardin - Graphics: Mélanie Duroux