Exhibition: Ma planète vue de l'espace
---
The Palais de la Découverte is currently offering several particularly interesting exhibitions, like the dinosaurs'. Another retrospective held Green Hotels Paris's attention: "Ma planète vue de l'espace : entre fragilité et beauté". It allows the public to explore very remote areas from around the world, thanks to the use of satellite imagery. These photographs prove how global warming damages our planet. Therefore, we observe the gradual extinction of rainforests, the rising sea levels, the melting of glaciers and urbanisation which is stretching. Organised until next June 5th, this event sounds the alarm, explaining to young populations that it is essential to adopt a way of life and consumption more environmentally friendly, at the risk of destroying it entirely.
Exhibition "Ma planète vue de l'espace: fragilité et beauté", from December 17th 2015 to June 5th 2016.
Open from Tuesday to Friday from 9:30am to 6pm, on Saturday from 9:30am to 7pm and on Sunday from 10am to 7pm.
Closed on Mondays.
Full rate: €9 / Reduced rate: €7.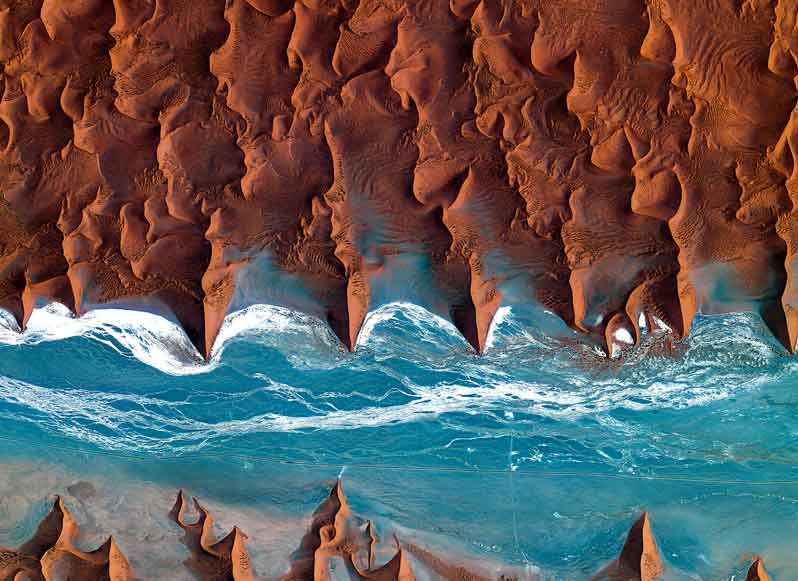 Sossusvlei Desert, Namibia/Satellite: Kompsat-2 /© KARI/ESA
Palais de la Découverte
Avenue Franklin Delano Roosevelt
75008 Paris
France
Tel.: +33 (0)1 56 43 20 20
Metro: Champs-Elysées Clemenceau (lines 1 or 13).