European Night of museums: What to see in the 16th arrondissement
---
This year, the 12th edition of European Night of museums will be held on Saturday May 21st. Ideally located, the Green Hotels Paris, the Eiffel Trocadéro and the Gavarni are surrounded by famous museums like the quai Branly or the Palais Galliera. Focus on the events which are programmed in the 16th arrondissement.
At the foot of hotels
A few minutes walk away from the Green Hotels Paris, you will be able to take part with your family to "tale workshops", stories which will echo to the Musée de l'Homme's collections or learn relief drawing at the Cité de l'Architecture. At the National Museum of the Marine, you will have free access to the exhibition "In the cracks" from 6pm to midnight. As a bonus, concerts will be given all night long by a piano/violin duo and the group "Les Calfats", specialised in sailor songs. The film "Sons of Barents" by David Kremer (2015) will also be showed. He produces the portrait of sailors on The Grande Hermine, the last French trawler equipped for Arctic deep-sea fishing.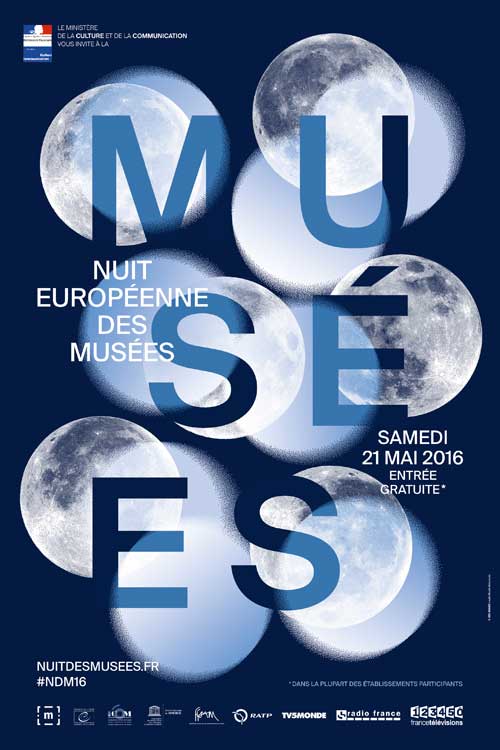 © DES SIGNES, studio Muchir Desclouds
A few miles away from the Green Hotels Paris
A little further away on foot, at the Guimet Museum, curious people will be able to attend historical readings, theatrical perfromances but also unusual visits with torchs! Just nearby, at the Palais Galliera, fashion enthusiasts will travel across paths of the exhibition "Anatomy of a Collection". At the Musée d'Art moderne de la Ville de Paris, guided tours and projections will liven up the evening. Finally, on the other bank of the Seine, the musée du quai Branly will be offering a free concert of the Ethiopian group Krar Collective. Coming from London, they revisit the traditional lyre to give it an electric sound!
12th edition of the European Night of museums, on Saturday May 21st 2016.
Free entrance.
National Museum of the Marine
17, place du Trocadéro
75016 Paris
France
Tel.: +33 (0)1 53 65 69 69
Metro: Trocadéro (lines 6 and 9).