Exhibition: Le Grand Collisionneur LHC
---
Budding scientists, this exhibition was made for you! To celebrate the 60th anniversary of the CERN (European Organisation for nuclear research), the Palais de la Découverte is holding this retrospective entitled "Le Grand Collisionneur LHC" ("The Large Collider LHC"). This exhibition will take visitors to the heart of the largest particle accelerator of the world: the LHC (Large Hadron Collider) by presenting the various experiences that allowed researchers to discover the Higgs boson. Visitors will learn about elementary particles and among other things why some of them have a mass and others don't.
"Le Grand Collisionneur LHC" exhibition, From October 17th 2014 to July 19th 2015.
Open Tuesday-Saturday from 9:30am to 6pm and from 10am to 7pm on Sunday and bank holidays.
Closed on Monday, May 1st 2015 and July 14th 2015.
Full rate: €9 / Reduced rate (under-25s and over-65s): €6.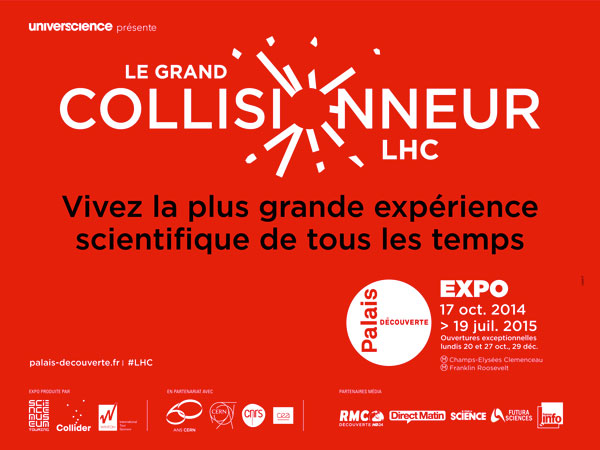 Le Grand Collisionneur – DR
Palais de la Découverte
Avenue Franklin Delano Roosevelt
75008 Paris
France
Tel: +33 (0)1 56 43 20 20
Metro: Champs-Elysées Clemenceau (lines 1 and 13).