Philharmonie de Paris: let the music play!
---
The Philharmonie de Paris has just opened its doors and already charmed its way into the public's heart with its futuristic architecture, which was designed by French architect Jean Nouvel. This mineral building is located just next to the Cité de la musique. Its façade is made of cast aluminium and shiny stainless steel and is covered with 340,000 aluminium birds of all sizes and shades.
Let the music play
This new cultural centre, in the East of Paris, comprises an extraordinary 2,400 seats concert hall. Indeed, it was designed to magnify the listening experience so that spectators can enjoy music to the fullest. The very original design of the venue is particularly ergonomic and offers great acoustics. All year long, visitors will be invited to enjoy classical music, jazz, contemporary and world music concerts, as well as dance shows. Music lovers will be thrilled to hear that the Philharmonie de Paris is hosting two major orchestras: the Ensemble intercontemporain and the Orchestre de Paris. Nevertheless, some other famous musical ensembles such as the Orchestre national d'Ile-de-France, the Orchestre de chambre de Paris and Les Arts Florissants will perform as well.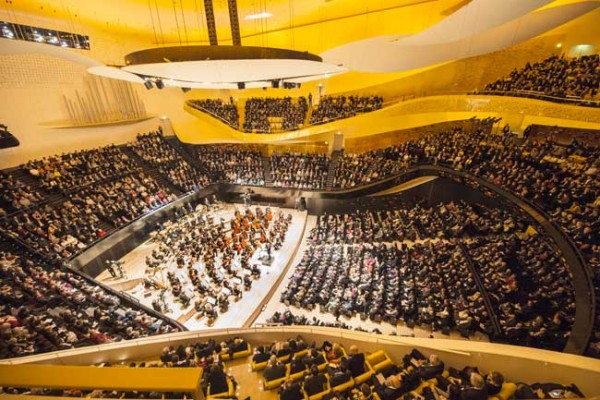 Gala 15-01-2015-Grande Salle © William Beaucardet
Let the art flow
In addition of promoting all kinds of music, the Philharmonie will also host retrospectives dedicated to great musicians and artists. From March 2015, exhibitions about David Bowie's whole career and French conductor Pierre Boulez – who will celebrate his 89th birthday in March 2015 – will be held.
"David Bowie is" exhibition, from March 3rd to May 31st 2015.
"Pierre Boulez" exhibition, from March 17th to June 28th 2015.
The musée de la musique is open Tuesday-Friday from noon to 6pm, and from 10am to 6pm on the weekends.
Closed on Monday.
Philharmonie de Paris
221, avenue Jean Jaurès
75019 Paris
France
Tel: +33 (0)1 44 84 44 84
contact@philharmoniedeparis.fr
Metro: Porte de Pantin (line 5).