Exhibition: The Art of pastel from Degas to Redon
---
Since September 15th, 2017, the Petit Palais is interested in the art of pastel, through a rich retrospective that presents almost 150 works realized by the greatest artists. From Impressionism to Symbolism, all the artistic movements are unveiled with creations of Berthe Morisot, Paul Gauguin, Auguste Renoir, Edgar Degas, Mary Cassatt, Odilon Redon or even Jacques-Emile Blanche and Victor Prouvé. This exciting exhibition offers a broad panorama of the second half of the 19th century; the renewal period of pastel. This is the only occasion to discover this art at the crossroads between drawing and painting, only a few subway stations from the Green Hotels Paris, the Eiffel Trocadéro and the Gavarni, near from the most beautiful avenue of the world, the Champs-Elysées.
Exhibition "The Art of pastel from Degas to Redon. The Collection of the Petit Palais", from September 15th, 2017 to April 8th, 2018.
Open from Tuesday to Sunday from 10.a.m. to 6.p.m.
Nocturnal on Friday until 9.p.m.
Closed on Monday.
Full price: €10 / Reduce rate: €8 / Free for those under 18.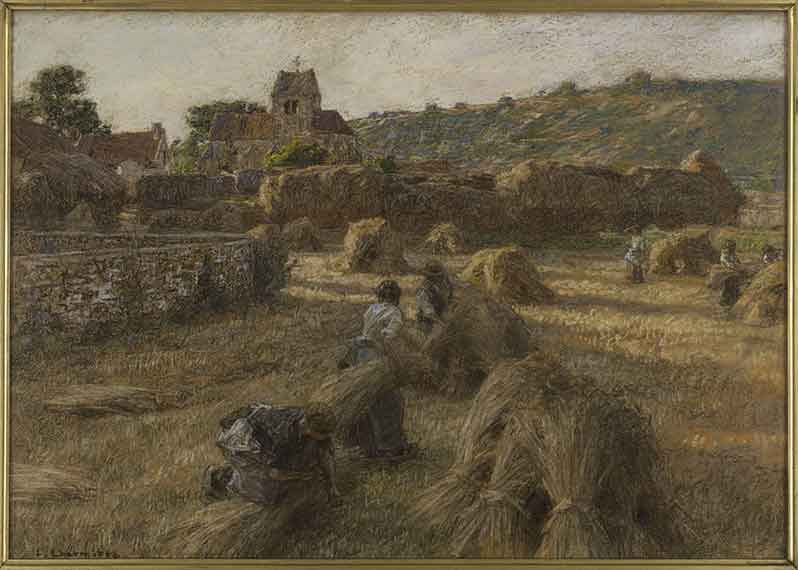 Léon Augustin Lhermitte, La moisson. Les lieuses de gerbes. Pastel.
Musée des Beaux-Arts de la Ville de Paris, Petit Palais © Petit Palais / Roger-Viollet
Petit Palais
Avenue Winston Churchill
75008 Paris
France
Tel: +33 (0)1 53 43 40 00
Metro: Champs-Elysées Clemenceau (lines 1 and 13).