Exhibition: Kupka, pioneer of abstraction
---
From March 21st to July 30th, 2018, the Grand Palais will host an exhibition dedicated to the Czech painter František Kupka (1871-1957), "pioneer of abstraction". After starting his career in the romantic and symbolist genres, Kupka eventually joined the abstract art movement. His transition to abstraction was a gradual process, as the characters represented in his paintings became more and more blurry. In the year 1912, he officially joined abstract painting, of which he was one of the main instigators. This retrospective thus retraces the immense career of the artist, from symbolism to abstraction, until his "mechanism" period. The museum gathered 300 works for the occasion, such as paintings, engravings, drawings, photographs, or even newspapers, manuscripts, illustrated books and movies. Kupka's creations are exposed throughout a route divided into five sections, each depicting his life chronologically. This event is available just a few metro stations away from the Green Hotels Paris, the Eiffel Trocadéro and the Gavarni.
Exhibition "Kupka, pioneer of abstraction", from March 21st to July 30th, 2018.
Open from Thursday to Monday from 10a.m. to 8p.m.
Nocturnal on Wednesday until 10p.m.
Closed on Tuesday.
Full rate: €14 / Concessions (16-25): €10 / Free for those under 16.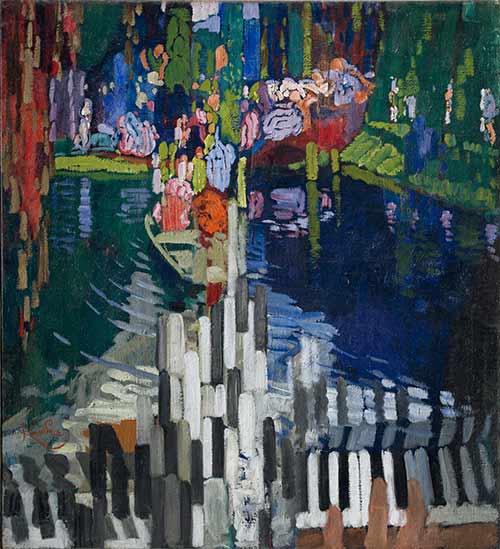 František Kupka
Piano keys, the Lake
1909
oil on canvas
79 x 72 cm
Czech Republic, Prague
Národní galerie v Praze, National Gallery in Prague
© Adagp, Paris, 2018 © National Gallery in Prague
2017
Grand Palais
3, avenue du Général Eisenhower
75008 Paris
France
Tel: +33 (0)1 44 13 17 17
Metro: Champs-Elysées-Clemenceau (lines 1 and 13) or Franklin Roosevelt (lines 1 and 9).