Exhibition: Faites vos jeux ! Quand les maths s'en mêlent
---
Until August 27th 2017, the Palais de la Découverte focuses on the fundamental tools of scientists. On this purpose, the museum presents about 40 games, from the lottery to the roulette wheel, including the heads or tails with dice, and even secret codes, to allow the visitors to learn while having fun. Acoustic, visual and computing activities can also be experienced. The point is to familiarize the public with topics like chaos, statistics, probabilities and large numbers. Thought for children and adults, the exhibition "Faites vos jeux! Quand les maths s'en mêlent" ("Place your bets! When maths get involved") also deals with the notion of chance that, in many cultures, applies to the daily life, from the board games to magic, from the gods to the culture, and to science. An event to discover not far from the Green Hotels Paris, the Eiffel Trocadéro and the Gavarni, down the most beautiful street of the world, the Champs-Elysées.
Exhibition "Faites vos jeux! Quand les maths s'en mêlent", from December 6th 2016 to August 27th 2017.
Open every day, except on Monday, from 9:30a.m. to 6p.m., and on Sunday from 10a.m. to 7p.m.
Full rate: €9 / Concessions (for under 25 and over 65): €7 / Free for under 3.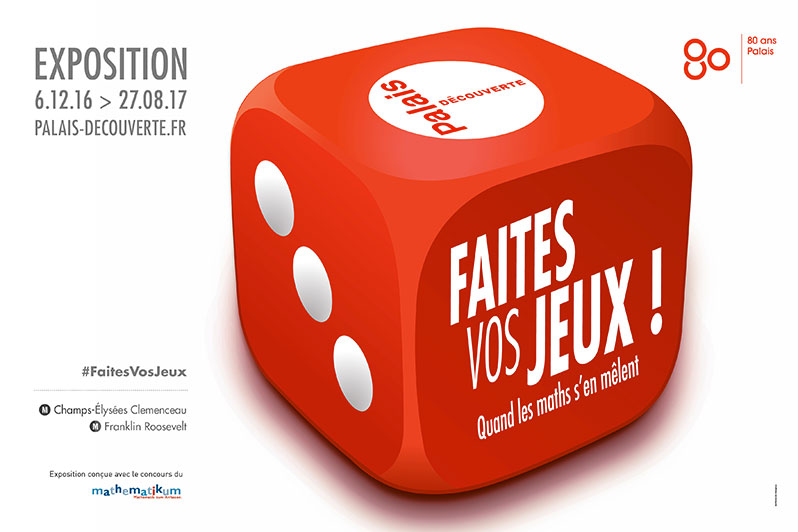 Faites vos jeux horizontal poster © Finguer in Zenose
Palais de la Découverte
Avenue Franklin Delano Roosevelt
75008 Paris
France
Tel.: +33 (0)1 56 43 20 20
Metro: Champs-Elysées Clemenceau (lines 1 and 13).