Exhibition: Concordances esthétiques
---
On the fringes of the exhibition it is consecrating to painter George Desvallières, the Petit Palais is suggesting another retrospective, dedicated to the artists who influenced it. With "Concordances esthétiques", we discover Desvallières's masters, from Jules Elie Delaunay to Gustave Moreau. All the exhibited works come from the collection of paintings and graphic arts of the City of Paris Fine Arts Museum. Throughout the exhibition, we learn that George Desvallières had already been displayed at the Petit Palais in 1903, for the occasion of the first edition of the Salon d'automne. His friends have, too, left their mark on site, like Maurice Denis or Georges Rouault. As a bonus, the museum is also welcoming "In the studio", which unveils great painters' shots in their process of creation. An event to discover in family just nearby the Green Hotels Paris, the Eiffel Trocadéro and the Gavarni.
Exhibition "Concordances esthétiques", from March 15th to July 17th 2016.
Open from Tuesday to Sunday from 10am to 6pm.
Free entrance.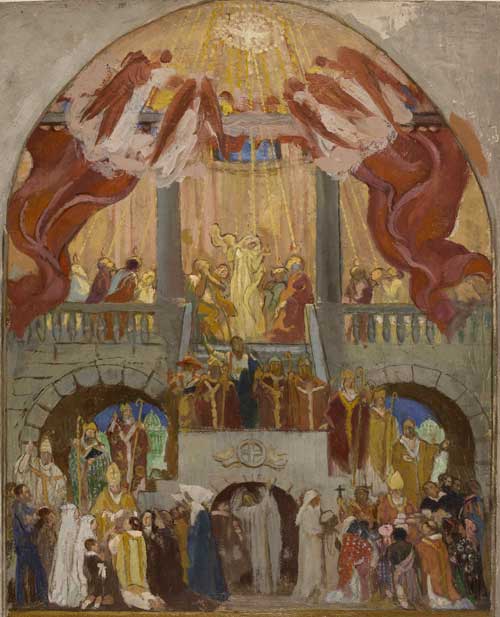 Maurice Denis (1870-1943). Esquisse pour l'église du Saint-Esprit (XIIe arr.) :
La Pentecôte, l'Eglise romaine, l'Eglise d'Orient. Oil on cardboard. 1935.
City of Paris Fine Arts Museum, Petit Palais.
© Petit Palais / Roger-Viollet
Petit Palais
Avenue Winston Churchill
75008 Paris
France
Tel.: +33 (0)1 53 43 40 00
Metro: Champs-Elysées Clemenceau (lines 1 and 13).