Salon Zen 2018: well-being makes its return to Espace Champerret
---
Want to discover new practices and methods to stay Zen? If so, there is a rendez-vous from the 27th of September to the 1st of October 2018 at the Salon Zen at Espace Champerret, in the 17th arrondissement of Paris. As every year, this trade show organizes more than 200 workshops-conferences and offers many animations on the themes of well-being, the art of living and personal development. How to live in the present, overcome uncertainty, free yourself from blockages, calm the mind, find harmony and connection to your being - the 360 health and psychology professionals on site will know how to answer all your questions. Meditation, sophrology, yoga, hypnosis, ayurvedic medicine, aromatherapy, quantum harmonization, etc. - the many techniques presented at the Salon Zen will help you to find the delicate balance between mind and body. The 2018 edition is enriched with three new features: a "Change your life" area, a Zen tea room and lunches in full awareness. This event opens its doors only a few subway stations from the Green Hotels Paris, the Eiffel Trocadéro and the Gavarni.
Salon Zen (website only available in French), from September 27th to October 1st, 2018.
Open from 10.30a.m. to 7p.m.
Late hours on Friday 28th September 2018 until 9p.m.
Rate: €8 / Free for under 12 and students.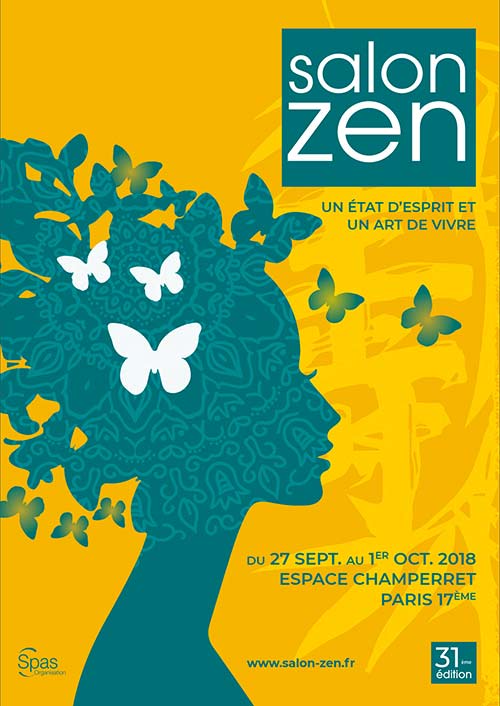 © SpasOrganisation
Espace Champerret
6, rue Jean Oestreicher
75017 Paris
France
Tel: +33 (0)1 45 56 09 09
Metro: Porte de Champerret or Louise Michel (line 3).