Exhibition: Jardins
---
From March 15th to July 24th 2017, the Grand Palais pays tribute to the gardens in painting. Matisse, Cézanne, Klimt, Fragonard, Picasso and even Monet, all of them painted gardens. The exhibition "Jardins" echoes to a famous quote of Foucault: "Le Jardin, c'est la plus petite parcelle du monde et puis c'est la totalité du monde" ("A garden is the smallest patch of the world but then also the entirety of the world"). Six centuries of creation are here together, from the Renaissance to nowadays, and unveil some of the main master pieces of the art history. Visitors can thus wander in a poetic scenography, following the photographs, the drawings, the paintings, the sculptures, the installations and the sound and olfactory environment. A retrospective to discover just a few metro stations away only from the Green Hotels Paris, the Eiffel Trocadéro and the Gavarni, to celebrate the arrival of spring on next Monday, 20th March.
Exhibition "Jardins", from March 15th to July 24th 2017.
Open every day from 10a.m. to 8p.m.
Nocturnal on Wednesday, Friday and Saturday until 10p.m.
Closed on May 1st and July 15th 2017.
Full rate: €13 / Concessions: €9.
The exhibition takes part into the European Museum Night on May 20th 2017: free admission from 8p.m. to noon.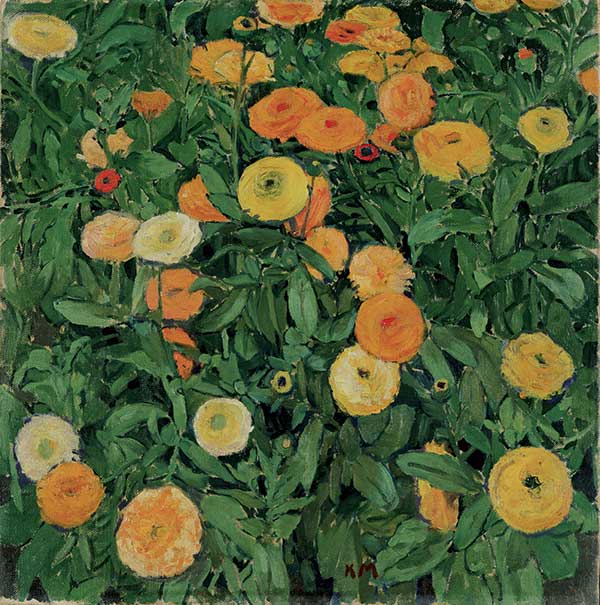 Koloman Moser
Marigolds (Soucis)
1909 oil on canvas; 50.3 x 50.2 cm
Austria, Wien
© Leopold Museum, Wien
Grand Palais
3, avenue du Général Eisenhower
75008 Paris
France
Tel.: +33 (0)1 44 13 17 17
Metro: Champs-Elysées-Clemenceau (lines 1 and 13) or Franklin Roosevelt (lines 1 and 9).