Exhibition: Collections privées, un voyage des impressionnistes aux fauves
---
The musée Marmottan Monet celebrates the start of the school year with an incredible exhibition: "Collections privées, un voyage des impressionnistes aux fauves" ("Private Collections, a journey from the Impressionists to the Fauves"). This major retrospective brings together 62 paintings, drawings and sculptures by the world's greatest artists. The journey begins with 19 paintings by Monet, Renoir, Pissarro, Degas and Caillebotte. Then, we dream in front of impressionist landscapes of Rouen, Belle-Ile or Bordighera, in front of still lifes, female portraits and other bouquets of chrysanthemums. Afterwards, we follow the Neo-Impressionists with Seurat, Signac and Van Gogh. Other great masters are represented such as Henri de Toulouse-Lautrec, of whom three paintings are revealed, and Camille Claudel, with a never before seen plaster "La petite chatelaine" which completes the exhibition. This flamboyant exhibition also brings together Derain, Dufy, Rodin, Vuillard and Redon, to name but a few. It is the occasion to admire the most beautiful painting masterpieces. Hurry up and meet them!
Exhibition "Collections privées, un voyage des impressionnistes aux fauves", from September 13th, 2018 to February 10th, 2019.
Open from Tuesday to Sunday 10.a.m. to 6.p.m.
Nocturnal on Thursday until 9.p.m.
Closed on Mondays, December 25th and January 1st.
Full rate: €12 / Concession (under 18): €8,50 / Free for those under 7.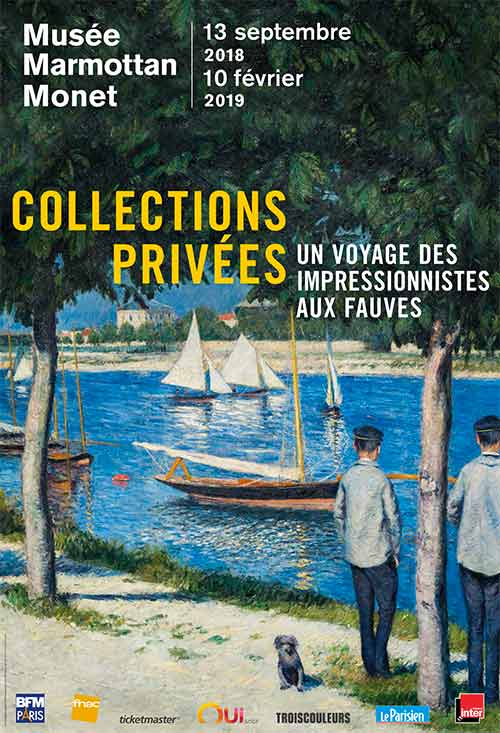 Gustave Caillebotte – The bank of the Petit Gennevilliers and the Seine – 1890 – Oil on canvas 153x127cm – Private collection
© Christian Baraja SLB
Musée Marmottan Monet
2, rue Louis Boilly
75016 Paris
France
Tel: +33 (0)1 44 96 50 33
Metro: La Muette (line 9) or Boulainvilliers (RER C).