More plastic than fishes in the oceans in 2050
---
Will the oceans be overwhelmed by plastic in 30 years? This is what confirms the new plastics economy report made by Ellen MacArthur Foundation, created by the famous navigator, and presented at the World Economic Forum of Davos, which took place on last January 20th and 23rd. Since 2009, the foundation aims to inspire a generation to think over and build a positive future, through the surrounding of a circular economy. The foundation looked at the case of plastic packaging, whose most of it end up in the nature. The study is based on analysis and researches made by about ten scientists and experts of the "economy of the plastic".
Alarming figures
Throughout this study, we learn that since the past half century, the use of this material has been multiplied by twenty, and is going to double again in the next twenty years. Each year, 8 million tons of plastic end up in the ocean, equivalent to a bin lorry's spillage every minute! Furthermore, we expect that these waste rejections will be doubled from now to 2030 and quadrupled in 2050. Numerous are the initiatives for recycling today, but in 78 million tons of single-use plastic bags, only 14% are recycled each year. What happens to the others? Almost 150 million tons of waste are already floating in the oceans. The foundation, which militates since 2010, suggests several solutions in order to limit the dumping of plastics in global waters, such as develop the recycling or speed up the use of reusable packagings.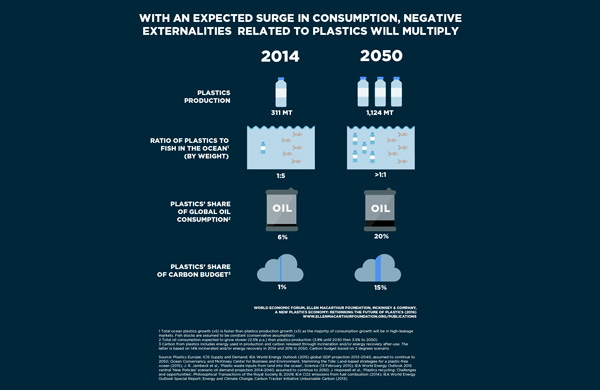 © Ellen MacArthur Foundation – New Plastics Economy
This transition of our economy, from the "disposable" towards a circular model, in which waste become resources, will soon see the light of the day, as single-use plastic bags will be forbidden in France in April 2016. This is a major step in the fight against oceans pollution, which is recognised by the Green Hotels Paris.
Know more about the new plastics economy report.
Know more about the circular economy.