Exhibition: Lee Chul Soo, Chemins de vie
---
After the "Webtoon" retrospective, dedicated to the South Korean digital comic strip, the Centre Culturel Coréen (Korean Cultural Centre) offers the opportunity to discover Lee Chul Soo's artworks. Considered to be one of the most important engravers in Korea, his work is characterised by simple lines, accompanied by beautiful texts and images. Until May 30th, approximately sixty creations of this self-taught and committed artist will be displayed. Made between 1990 and 2017, they offer a wide panorama of his career and expertise. In his engravings, Lee Chul Soo addresses modern themes related to social injustices, depicting workers and peasants, and including nature, which he loves immensely. His other favourite subject is spirituality. Since the 1990s, he's been particularly interested in Buddhism and the zen practice in the daily life. This harmony can be found all along this free exhibition, available near the Green Hotels Paris, the Eiffel Trocadéro and the Gavarni.
Exhibition "Lee Chul Soo, Chemins de vie" ("Life paths"), from April 25th to May 30th, 2018.
Open from Monday to Friday from 9:30a.m. to 6p.m. and on Saturday from 2p.m. to 7p.m.
Free entrance.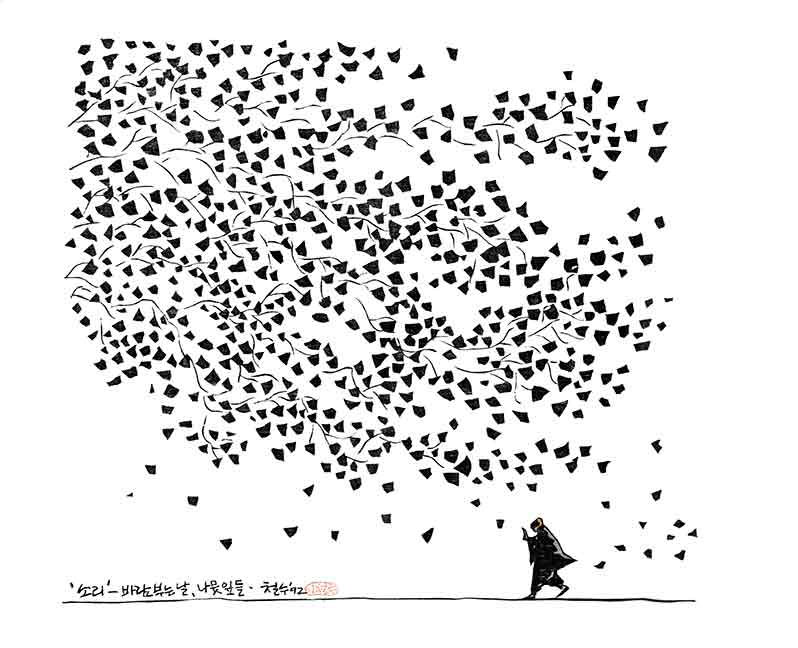 Sound - Leaves of Trees on a Windy Day 42 X 50 1992
© Lee Chul Soo / Centre Culturel Coréen
Centre Culturel Coréen (website in French)
2, avenue d'Iéna
75116 Paris
France
Tel: +33 (0)1 47 20 84 15 or 83 86.
Metro: Iéna (line 9) or Trocadéro (lines 6 and 9).