The Palace of Versailles launch his grocery brand
---
The Palace of Versailles' magnificent gardens and kitchen gardens, designed by Louis XIV's gardeners, Le Nôtre and La Quintinie, are world famous. French gastronomy owes its reputation to royalty's feasting and celebration. It is for both these reasons that Versailles has got together with "Oh ! légumes oubliés" to create an organic specialty grocery brand called "Château de Versailles-Epicerie Fine". All the products used in the creation of these jams, syrups and soups are organic, cooked in France with locally sourced ingredients. They conjure up the tastes loved by the Palace in the past.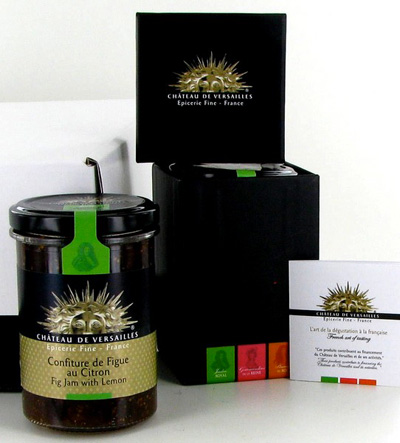 Gift box - Fig and lemon jam © Château de Versailles-Epicerie Fine / Bernard Lafon
Three lines of gourmet products
The brand has three lines, each dedicated to a famous person: Louis XIV, Marie-Antoinette and La Quintinie. The first, "Jardin Royal" (or Royal Garden), uses a variety of fruit and vegetables to create sandwich spreads, chutneys and compotes. They use asparagus, egg plant, strawberries, peas and rhubarb, all of which were introduced to Versailles' kitchen garden and greenhouses by Jean-Baptiste de La Quintinie. The second line "Gourmandises de la reine", (the Queen's Treats), has honey sweets, syrups made from organic plants (violet, rose, etc.) - things that Marie-Antoinette was fond of. The last, and most up-market, the "Plaisirs du roi", (the King's Pleasures), has foie gras, Perigord truffles, and rare herbs and spices. By the way, it was Louis XIV, a man who loved food, who started the fashion for foie gras at the Palace of Versailles. The products can be bought in the Boutique des Princes at Versailles. Any profits made are used to help the Palace of Versailles with its restoration, exhibitions or acquisitions.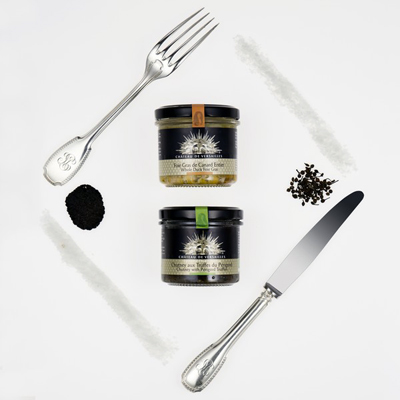 Foie gras and truffles © Château de Versailles-Epicerie Fine / Bernard Lafon
Château de Versailles
Place d'Armes
78000 Versailles
France
Tel: +33 (0)1 30 83 78 00
Access: Versailles-Château-Rive Gauche (RER C).