The festival des Images mouvementées tackles the climate
---
The film festival of Attac: "Images mouvementées" ("Turbulent Pictures") exists since 2003, and works each year on provoking a collective reflection about burning questions of our century. For its 13th edition, the event tackles the climate with this topic: "Change the system, not the climate". From November 5th to 28th 2015, 35 French and Foreign films, old or new, about the climate change will be proposed to the spectators. Documentaries, fictions, short films, full-length feature films: all the cinematographic types are represented here. The festival des Images mouvementées (Turbulent Pictures Festival) is organised in Paris, but also in Parisian suburbs, at Montreuil and Saint-Denis (93), or at Antony (92), in 25 independent cinemas and cultural places. For its opening evening, on November 10th next, the festival projects at a preview showing, the "This changes everything" film, at le Méliès cinema in Montreuil, with a debate on COP21 issues. This documentary produced by Avi Lewis, from Naomi Klein's book, highlights testimonies of diverse populations which are directly affected by climate changes. The aim of this event is to have a citizen rallying in order to fight against climatic crisis which concerns our planet. Numerous participants, activists, researchers, authors and members of national or worldwide organisations will attend the projections and interact with the public.
Festival des Images mouvementées, (Turbulent Pictures Festival) (in French), from November 5th to 28th 2015.
Projection of "This changes everything", Tuesday, November 10th 2015, at 8:30pm.
Single Price: €3.50.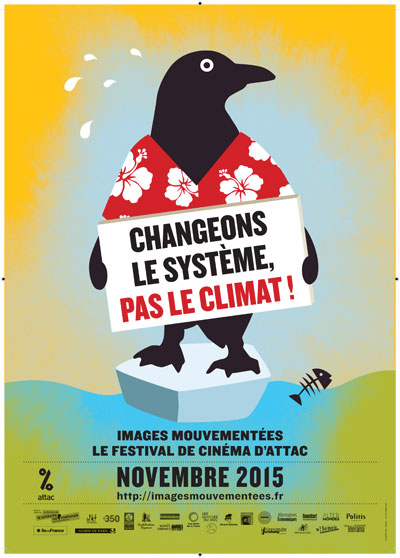 Cinéma Le Méliès (in French)
12, place Jean Jaurès
93100 Montreuil
France
Tel: +33 (0)1 48 70 69 13
Metro: Mairie de Montreuil (line 9).