The Salon Marjolaine celebrates its 40th anniversary
---
Each year, the Salon Marjolaine (Marjolaine Show) tries to change the common preconceptions about organic, in inviting Parisians and tourists to meet organic participants, but most importantly, to try or taste organic products! For its 40th edition, which takes place at Parc Floral de Paris from November 7th to 15th 2015, 550 exhibitors will meet to show the food, the health, the gardening, the decoration or the organic beauty. Visitors could also discover united tourism or ecotourism, as well as ethic or organic trend. Throughout this organic show, projections on ecology, but also conferences will be organised in order to exchange on varied topics as the COP21 issues. All the craftspeople are certified and have been selected by Nature & Progress, the federation of consumers and professionals of the agroecology. Ultimate family event, the Salon Marjolaine doesn't forget the children, in offering to discover food and their provenance, thanks to an "edible treasure hunt": the "Marjo'Kids". This 40th anniversary wants to make an impact, in a precise goal: change the consumption habits while preserving the health and the environment, but also rediscover the taste of products and of course, their quality.
Salon Marjolaine (Marjolaine Show), (in French), from November 7th to 15th 2015.
Open from 10:30am to 7pm.
Nocturnal on Friday, November 13th 2015 until 9pm.
Full rate: €10 / Concession: €7.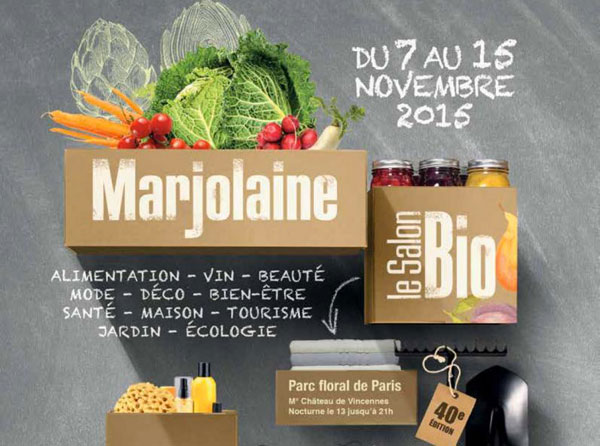 © DR
Parc Floral de Paris
Esplanade du Château de Vincennes
75012 Paris
France
Tel: +33 (0)1 49 57 24 84
Metro: Château de Vincennes (line 1).