Exhibition: Mary Cassatt, an American Impressionist in Paris
---
Until July 23rd, 2018, the musée Jacquemart-André is hosting an exhibition dedicated to the American painter Mary Cassatt (1844-1926). Born in the United States in 1844, in a family of French origin, she was one of the greatest female figures of Impressionism, in a vast male and French majority. Having lived in Pennsylvania then mainly in Paris, she had a cultural duality which was distinctly reflected in her impressionist paintings. Like most of her peers, Mary Cassatt drew her inspiration from her own daily life and created works using simple themes, closely linked to her personal life. For this retrospective, the musée Jacquemart-André borrowed paintings of the artist from the most famous American museums, such as the Washington National Gallery of art or the Metropolitan Museum of art of New York, but also from French museums like the Musée d'Orsay or the Petit Palais. This unique event is available just a few metro stations away from the Green Hotels Paris, the Eiffel Trocadéro and the Gavarni.
Exhibition "Mary Cassatt, an American Impressionist in Paris", from March 9th to July 23rd, 2018.
Open every day from 10a.m. to 6p.m.
Nocturnal on Monday until 8:30p.m.
Full rate: €13.50 / Concessions: €10.50 / Free for children under 7.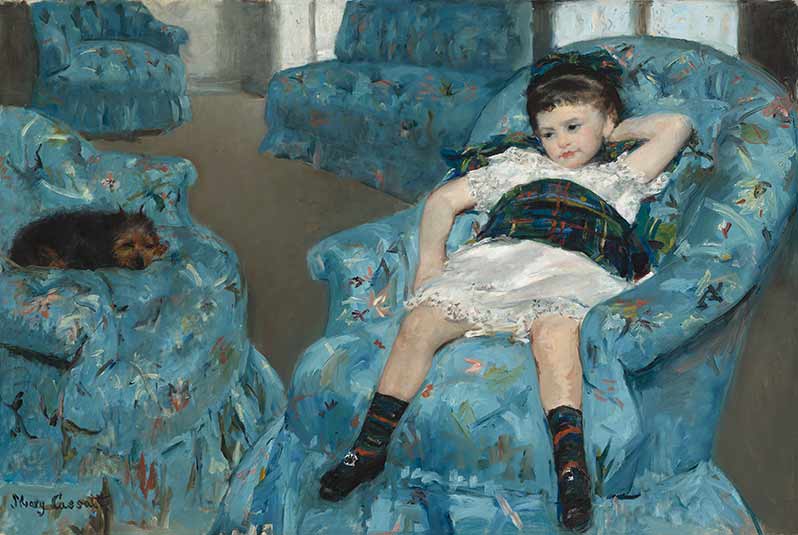 Mary Cassatt,
Little Girl in a blue armchair,
 around 1877-1878, Oil on canvas,
89,5 x 129,8 cm, Inv. 1983.1.18,
National Gallery of Art, Washington, Collection of Mr And Mrs Paul Mellon © Courtesy National Gallery of Art, Washington
Musée Jacquemart-André
158, boulevard Haussmann
75008 Paris
France
Tel: + 33 (0)1 45 62 11 59
Metro: Saint-Augustin (line 9) or Miromesnil (lines 9 and 13).