Exhibition: Lee Ungno, the man of crowds
---
Until 19th November, 2017, the musée Cernuschi presents the works of one of the most important Asian painters of the 20th century: Lee Ungno (1904-1989). His work is at the crossroads of Europe and Far East. The artist also initiated a contemporary Korean art. Indeed, in the 1950's, Lee Ungno turned to modern and abstract art, abandoning traditional art. Since, his works are in the same category as the ones of Pierre Soulages (1919-), Zao Wou-Ki (1921-2013) or even, Hans Hartung (1904-1989). His career has also been marked by his exploration of the relations between abstraction and calligraphy, in the 1970's. These researches gave birth to one of the most dominant themes of his work: Crowds. The musée Cernuschi offers in this way the unique opportunity to discover the art of this Korean abstract painter, designer, sculptor and calligrapher.
Exhibition "Lee Ungno, the man of crowds", from 9th June to 19th November, 2017.
Open every day, unless on Monday, from 10a.m. to 6p.m.
Full price: €8 / Reduce rate: €6 / Free for those under 18.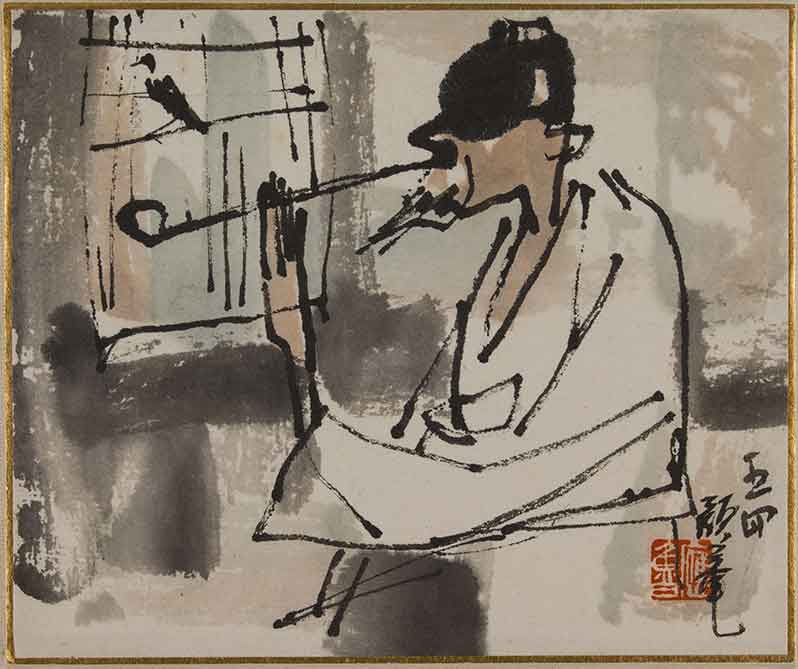 Old man and bird, 1954, ink and colours on paper, 13 x 15,5 cm.
© Musée Cernuschi / Roger-Viollet - Adagp, Paris 2017.
Musée Cernuschi
7, avenue Vélasquez
75008 Paris
France
Tel: +33 (0)1 53 96 21 50
Metro: Monceau (line 2).