Exhibition: The Hansen's Secret Garden
---
Since 15th September, 2017, and until 22nd January, 2018, the musée Jacquemart-André welcomes the Ordrupgaard collection, constituted by a Danish couple, passionate about art: Wilhelm (1868-1936) and Henny (1870-1951) Hansen. In authentic visionaries, they will build a rich collection unique in Europe of impressionist and post-impressionist masterpieces representatives of the 19th and the early 20th centuries in just two years, between 1916 and 1918. Through the exhibition "The Hansen's Secret Garden. The Ordrupgaard Collection" more than 40 paintings are unveiled from Matisse to Cézanne, from Manet to Sisley, from Pissarro to Monet, while passing by Corot, Courbet, Degas and Gauguin. This is a unique opportunity to discover one of the most beautiful canvas of these masters of impressionism.
Exhibition "The Hansen's Secret Garden. The Ordrupgaard collection.", from 15th September, 2017 to 22nd January 2018.
Open every day from 10a.m. to 6p.m.
Nocturnal on Monday until 8:30p.m.
Full price: €13,50 / Reduce rate: €10,50 / Free for those under 7.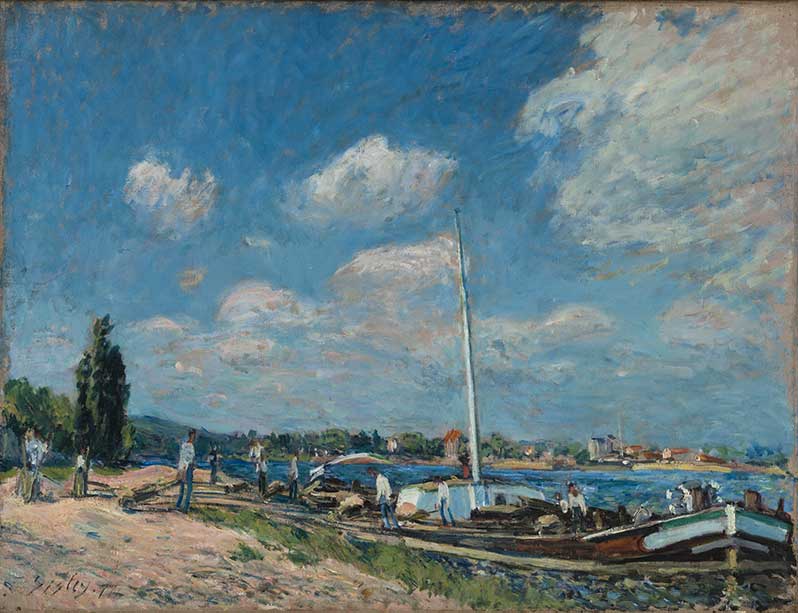 Alfred Sisley (1839-1899), Le Déchargement des péniches à Billancourt, 1877,
oil on canvas, 50 x 65 cm Ordrupgaard, Copenhague
© Ordrupgaard, Copenhague / Photo: Anders Sune Berg
Musée Jacquemart-André
158, boulevard Haussmann
75008 Paris
France
Tel: +33 (0)1 45 62 11 59
Metro: Miromesnil (lines 9 and 13).