Keith Haring hypnotizes the MAM (Museum of Modern Art)
---
Two of the most important Parisian museum of modern art, the MAM and the 104 associate on the occasion of a retrospective dedicated to Pop Art genius: Keith Haring (1958 – 1990). 250 hypnotic works will be presented to the public, among which are about twenty are of huge size (at the 104).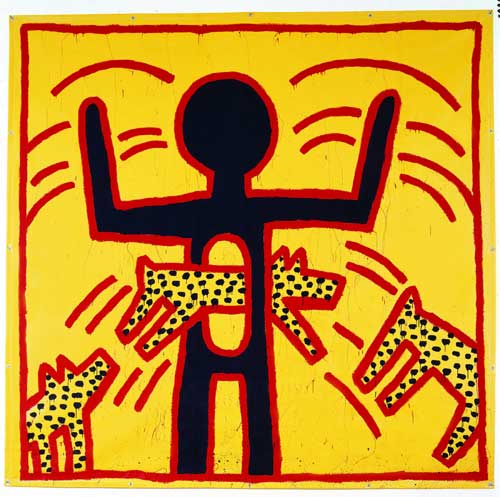 Keith Haring Untitled, 1982
Sheikha Salama bint Hamdan Al Nahyan's collection, Abu Dabi. United Arab Emirates
Vinyl painting on vinyl tarp 365,7 x 375,9 cm
© Keith Haring Foundation
A subversive artist
This exhibition shows the will of the artist to change the world through his stand for several important causes: aids, capitalism, apartheid, racism, homophobia, and destruction of the environment. His paintings, drawings or sculptures are all synonymous with social justice and individual freedom against the system and the State.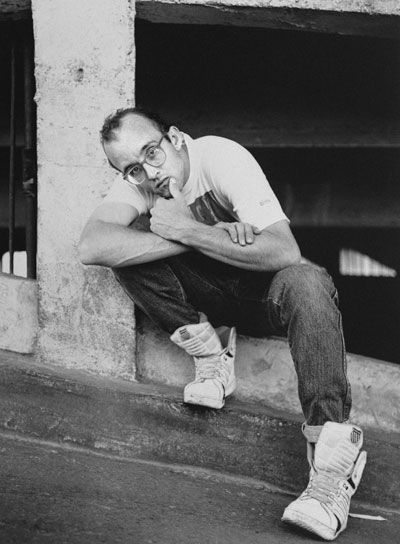 Keith Haring portrait, by Philippe Bonan
June 1989
© Photographer : Philippe Bonan
A street-art enthusiast
Keith Haring wanted to offer art to everybody. Fascinated with graffiti, he started working in public space and in particular in the New York subway. His "subway drawings", made with white chalk, testify of his line genius and his quickness to avoid being caught by the police (which happened several times). Friend with Andy Warhol, Madonna and Jean-Michel Basquiat, Keith Haring contributed to hip-hop and break dance's renaissance. He worked with graph artists and dancers, with certain frenzy to product works that break the law.
This UNMISSABLE exhibition can be discovered until august, 18th, 2013!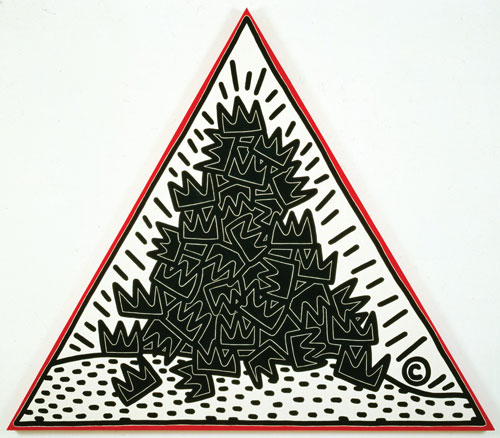 Keith Haring
A Pile of Crowns for Jean-Michel Basquiat, 1988
Collection Keith Haring Foundation
Acrylic on canvas 304,8 x 304,8 cm
© Keith Haring Foundation
Exhibition "Keith Haring, The Political Line", from April 19th to august 18th, 2013 at the MAM and the 104.
The MAM is open Tuesday to Sunday from 10a.m to 6p.m. Late-opening on Thursday until 10p.m.
The 104 is open Tuesday to Sunday from 1p.m to 7:30p.m.
MAM Rate: 11€ / 104 Rate: 8€.
Upon presentation of the ticket bought at the MAM or the 104, benefit the lowest rate (5,5€ or 3 €) in the other museum to visit the second part of the exhibition.
Paris Museum of Modern Art (MAM)
11,Avenue du president Wilson
75116 Paris
France
T.: +33 (0)1 53 67 40 00
The Hundred and Four (104)
5, rue Curial
75019 Paris
France
T.: +33 (0)1 53 35 50 00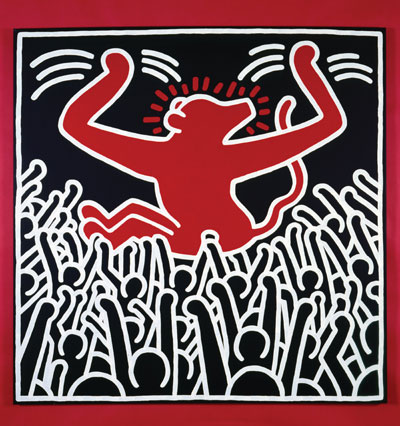 Keith Haring
Untitled, april 9th 1985
Private collection
Acrylic on canvas 152,4 x 152,4 cm
© Keith Haring Foundation