Exhibition: François 1er, Pouvoir et image
---
The Bibliothèque nationale François Mitterand is dedicating an exhibition to Francis I of France, the king who initiated the French artistic Renaissance. This retrospective, entitled "François 1er: Pouvoir et image" ("Francis I, Power and Image"), celebrates the 500th anniversary of his victory at the battle of Marignano (1515) and offers to discover the multiple facets of this Christian king, who also was a knight, a patron of the arts and a man of letters. 
"François 1er: Pouvoir et image" exhibition, from March 24th to June 21st 2015.
Open Tuesday-Saturday from 10am to 7pm and from 1pm to 7pm on Sundays.
Closed on Mondays and bank holidays.
Full rate: €9 / Reduced rate: €7.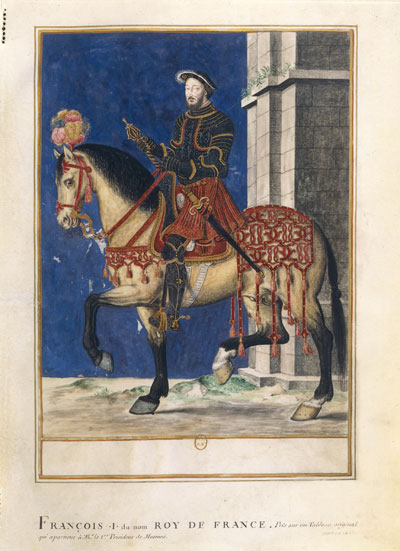 From Jean Clouet, Francis I riding a horse, before 1711 (from an original at the Louvre)
© BnF, Prints and photographs
BNF
Quai François Mauriac
75013 Paris
France
Tel: +33 (0)1 53 79 59 59
Metro: Quai de la gare (line 6) or Bibliothèque François Mitterrand (line 14 or RER C).