The Eiffel Tower receives two wind turbines!
---
As part of the overall refurbishment of the first floor of the Eiffel Tower, which welcomes close to 7 million visitors a year, the Eiffel Tower operating company (SETE) has installed two vertical-axis wind turbines on the monument. 7-meter high and 3-meter large, their grey color enables them to easily blend into the metallic structure, as they have been placed on the second floor, which is said to be the most appropriate spot for them to fully catch the wind. With a production capability of 10,000 kWh per annum, they will be able to cover the equivalent energy need of the shop located on the 1st floor. Part of a project aiming to reduce the tower's ecological footprint, this initiative marks its commitment when it comes to sustainable development, and it is incidentally not the monument's first ecological effort. Its LEDs, solar panels, rainwater retrieval system and heat pumps indeed supply the monument with 100%-renewable energy.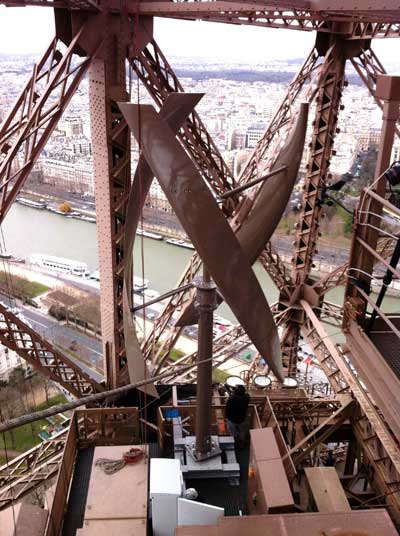 © SETE
The Eiffel Tower
Champ de Mars
5, avenue Anatole France
75007 Paris
France
Tel: +33 (0) 892 70 12 39
Metro: Bir-Hakeim (line 6), École Militaire (line 8) and Champ de Mars – Tour Eiffel (RER C).