Exhibition: Anita Molinero, Fill up that hole!
---
As usual, the Palais de Tokyo offers a rich and diverse programme. In addition to the exhibitions dedicated to Massinissa Selmani and Marianne Mispelaëre, the museum is welcoming Anita Molinero's installations. One of them is suspended in the air, right above the landing of the site's main staircase. The artwork resembles a spaceship but is really more of an impressive sculpture, made of burned polystyrene. It is surrounded by melted motorcycle fairings. In the artist's imagination, they represent satellites spinning around a seemingly dead planet, or worse, birds of ill omen. Anita Molinero's area of expertise is sculpture, which she creates with recovered industrial materials, such as trash bins, urban furniture, packages or car pieces. She shapes them using a flamethrower. These carbonised and swollen carvings are truly hypnotic. They are displayed just a few-minute walk away from the Green Hotels Paris, the Eiffel Trocadéro and the Gavarni.
Exhibition "Anita Molinero, Fill up that hole!", from February 16th to May 13th, 2018.
Open every day from noon to midnight, except on Tuesday.
Full rate: €12 / Concessions (12-25 and + de 60): €9 / Free for those under 18.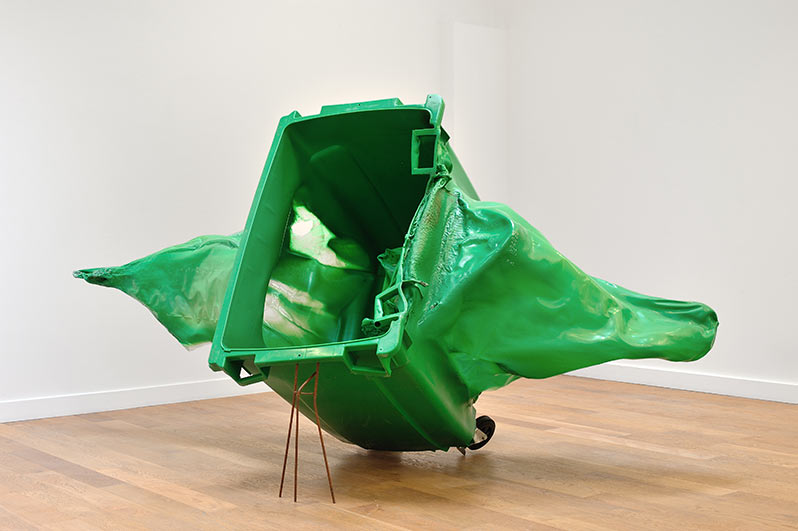 Sans titre de la mort, 2015
Melted trash bin
303 x 150 x 160 cm
Courtesy of the artist and the Galerie Thomas Bernard - Cortex Athletico
Photo credit: Rebecca Fanuele
Palais de Tokyo
13, avenue du Président Wilson
75116 Paris
France
Tel: + 33 (0)1 81 97 35 88
Metro: Iéna or Alma-Marceau (line 9).