Exhibition: Georges Wolinski
---
Until May 13th, the Palais de Tokyo is paying tribute to the French newspaper cartoonist Georges Wolinski, murdered during the Charlie Hebdo attack on January 7th, 2015. 60 original drawings and research plates are displayed as part of the "Discord" cycle, designed by the museum. Visitors can discover the artist's favourite themes, such as love, confinement, cliffs or even God. With this eponymous exhibition, the Palais de Tokyo reveals Georges Wolinski's hidden facet, more intimate and in contrast with his troublemaker side. This retrospective is held just a few-minute walk away from the Green Hotels Paris, the Eiffel Trocadéro and the Gavarni. Visitors will also have the opportunity to discover another event at the Palais de Tokyo, "Fill up that hole" by Anita Molinero, held also until May 13th, 2018.
Exhibition "Georges Wolinski", from April 13th to May 13th, 2018.
Open every day, except on Tuesday, from noon to midnight.
Full rate: €12 / Concessions (12-25 and +60): €9 / Free for those under 18.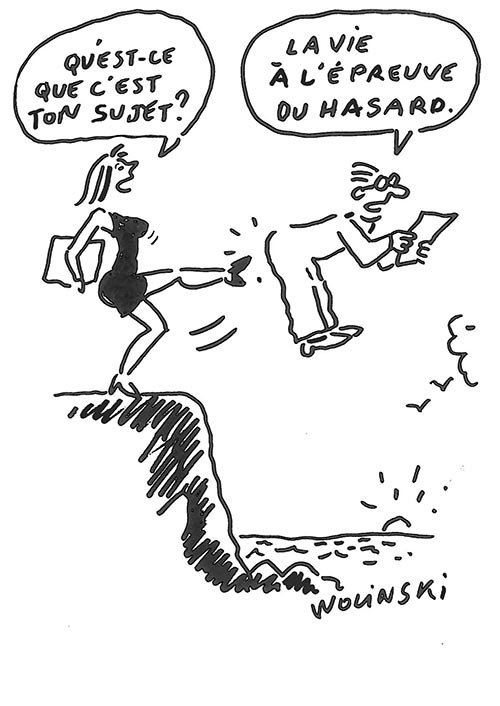 La vie à l'épreuve du hasard
Caption: dessin de Georges Wolinski
Palais de Tokyo
13, avenue du Président Wilson
75116 Paris
France
Tel: + 33 (0)1 81 97 35 88
Metro: Iéna or Alma-Marceau (line 9).