Exhibition: Mai 68, l'architecture aussi !
---
In addition to the exhibition dedicated to Georges-Henri Pingusson (1894-1978) held until July 2nd, the Cité de l'Architecture et du Patrimoine is focusing on another subject: May 68. With this retrospective "Mai 68, l'architecture aussi !" ("May 68, architecture too!"), held until September 17th, 2018, the museum puts the spotlight on a certain aspect of this key period of the French history. The event is centred on the evolution of the architectural teachings in France during the 1960s and the 1970s. Indeed, May 68 ignited many debates among architects, particularly on the transformation of the profession. The exhibition is divided into 4 great themes: "Refuser l'héritage" ("Refusing the legacy"), "Tout est politique !" ("Everything's political!"), "L'école réinventée" ("Reinvented school") and "Hypothèses pour l'architecture" ("Theories for architecture"). They address competitions and awards, the appearance of new schools, or even the lessons taught by May 68. This exhibition is available just a few-minute walk away from the Green Hotels Paris, the Eiffel Trocadéro and the Gavarni.
Exhibition "Mai 68, l'architecture aussi !", from May 16th to September 17th, 2018.
Open every day, except on Tuesday, from 11a.m. to 7p.m.
Notcturnal on Thursday until 9p.m.
Full rate: €5 / Concessions: €3.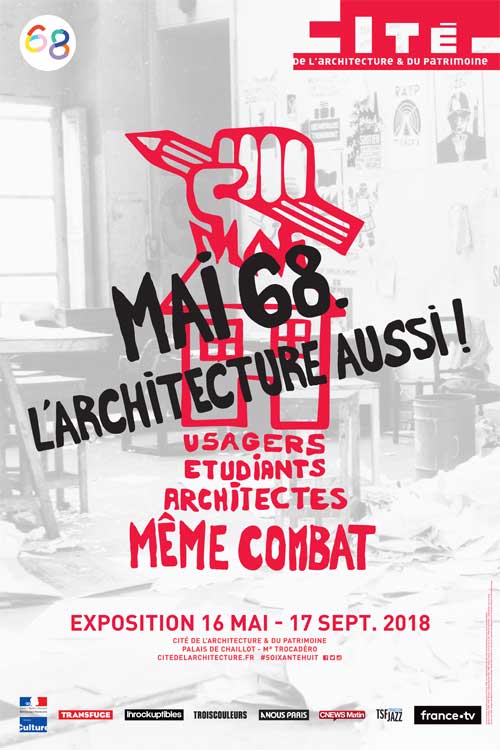 Caption: View of a painting workshop after June 27th, 1968,
the "Events" of May 1968 at the School of Fine Arts seen from the library.
Bouleau Charles (1906-1987), Bouleau-Rabaud Wanda (1904-1988),
Photo © Beaux-Arts de Paris, Dist. RMN-Grand Palais / image Beaux-arts de Paris
Affiche mai 1968 : Usagers étudiants architectes même combat.
Sérigraphie, 65x50 cm, Imprimerie spéciale des Beaux Arts
© Collection Michael Lellouche/Leemage
Cité de l'Architecture et du Patrimoine
1, place du Trocadéro
75116 Paris
France
Tel: +33 (0)1 58 51 52 00
Metro: Trocadéro (lines 6 and 9).