Exhibition: new display at the musée Yves Saint Laurent
---
Since its opening on October 3rd, 2017, just a few-minute walk away from the Green Hotels Paris, the Eiffel Trocadéro and the Gavarni, the musée Yves Saint Laurent reveals treasures from the collections of the famous French fashion designer who died in 2008, in Paris. Because the exceptional pieces are fragile, they need to be frequently replaced. Since March 13th, visitors can discover forty new haute couture YSL models. For conservation reasons, the textiles and accessories which were displayed until now are back in the museum storage. Embroidered cape created in homage to the painter Georges Braque, taffeta dress found in the 1986 spring-summer collection or the "Miroir brisé" jacket ("broken mirror"), here are some of the clothes which can now be admired by fashion aficionados. This inaugural display exhibition is available until September 9th, 2018. Hurry and go take a look at one of the most beautiful fashion museums in Paris!
Inaugural display exhibition of the musée Yves Saint Laurent, from March 13th to September 9th, 2018.
Open from Tuesday to Sunday, from 11a.m. to 6p.m.
Nocturnal on Friday until 9p.m.
Closed on Monday, on January 1st, May 1st and December 25th.
Full rate: €10 / Concessions (10-18): €7 / Free for those under 10.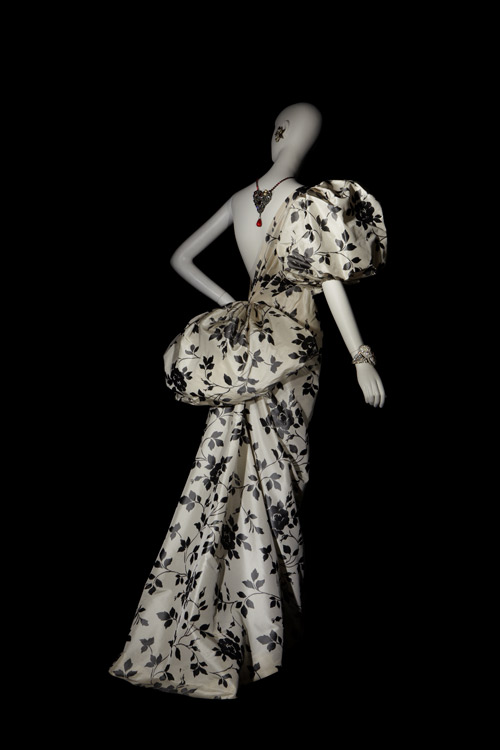 Evening gown haute couture spring-summer Collection of 1986
© Musée Yves Saint Laurent Paris / Alexandre Guirkinger
Musée Yves Saint Laurent
5, avenue Marceau
75116 Paris
France
Tel: +33 (0)1 44 31 64 00
Metro: Alma-Marceau (line 9).