Exhibition: Anders Zorn, Sweden's Master Painter
---
After Carl Larson in 2014, the Petit Palais caries on its tribute to Swedish painting presenting Anders Zorn's works (1860-1920). 150 works of the artist are unveiled until 17th December, 2017, offering a broad panorama of the painter's style that was also a talented watercolourist, photographer and engraver. Reputed and admired for his work between the 19th and the 20th centuries in Paris, Anders Zorn has since somewhat been forgotten. The last retrospective dedicated to him dates back to 1906.  All the pieces exposed come from the greatest Scandinavian and French museums and namely from the Nationalmuseum of Stockholm and the Zorn museum in Mora. Come with your family to visit this event since this exposition is free for those under 18, only a few subway stations from the Green Hotels Paris, the Eiffel Trocadéro and the Gavarni.
Exhibition "Anders Zorn, Sweden's Master Painter", from 15th September,2017 to 17th December, 2017.
Open from Tuesday to Sunday from 10.a.m. to 6.p.m.
Nocturnal on Friday until 9.p.m.
Closed on Monday.
Full price: €11 / Reduce rate: €9 / Free for those under 18.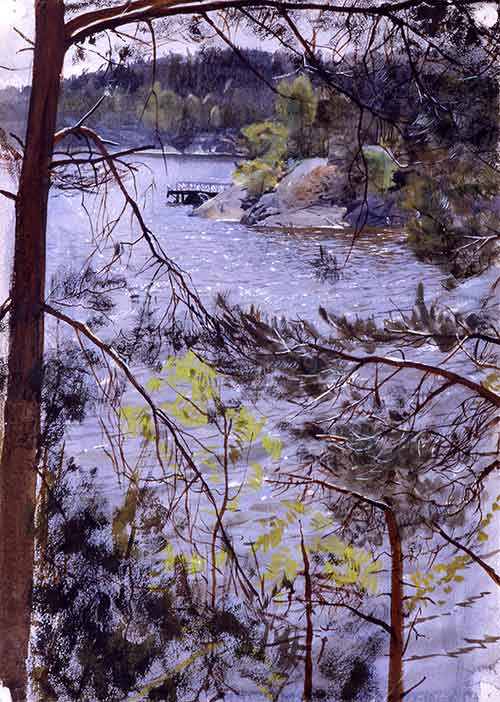 Anders Zorn, Kyrkviken, Lidingö, watercolours 1883. nalmuseum, Stockholm, Suede
© Photo Nationalmuseum Zorn Museum, Mora, Suède © Photo Per Bergström
Petit Palais
Avenue Winston Churchill
75008 Paris
France
Tel: +33 (0)1 53 43 40 00
Metro: Champs-Elysées Clemenceau (lines 1 and 13).