Clémence et Vivien: handmade natural cosmetics
---
Based in the West of France, near La Rochelle, Clémence et Vivien produce two ranges of handmade natural cosmetics, which carry the Vegan and Slow labels. The first is a range of creamy cold process soaps like "Le Gecko", an exfoliant with rosemary and lemon, or "Le Saint Bernard" with orange, petitgrain and turmeric. The second is a range of solid deodorant balms which are applied to the armpits like a cream, using your fingers. Enriched with apricot and organic shea butter oil, they come in three perfumes, in recyclable glass jars. The "Fleuri" is made of geranium, palmarosa and lavender, the "Herbacé" of mint, sage and rosemary, and the "Sucré" of cedar, sage and ylang-ylang. All three recipes are without aluminum salts, triclosan, parabens and preservatives. The deodorant action comes from sodium bicarbonate, and the regulator from cornstarch. Natural products that will be a pleasure to put under the tree for Christmas!
Creamy cold process soaps: €3,90 / Solid deodorant balms: €7,90.
The products are available online on Clémence et Vivien or on the e-shop www.doux-good.com (in French).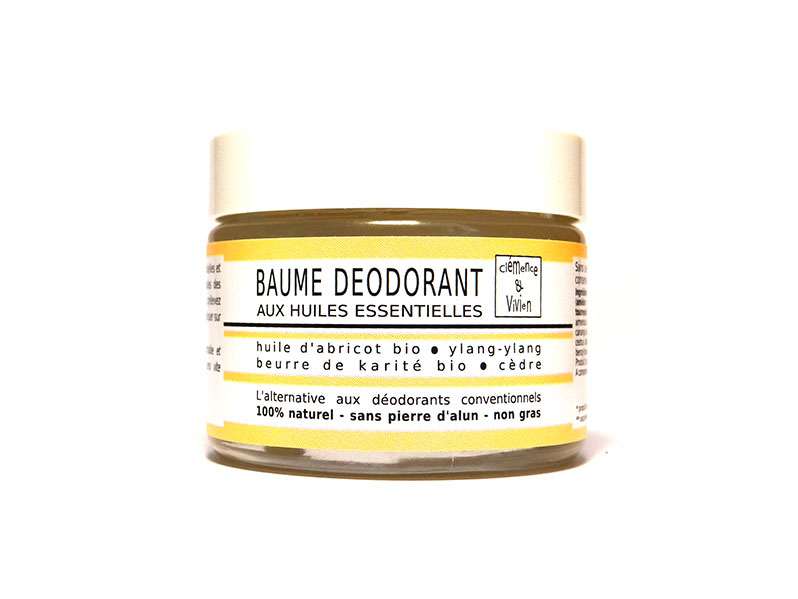 Solid deodorant balm " Sucré " © Clémence et Vivien