The blogger Princess Zara at the Eiffel Trocadéro Hotel!
---
Above all, you should know that nothing gives us a greater pleasure than to see you happy between our walls. When the tickets regarding our hotels arrive to our ears, it's like Christmas morning…but even better. We can thank Princess Zaza, the distinguished blogger from Marseille on a voyage to Paris has for a good 10 years or so, is constantly on the search for the best Parisian addresses, who loves the Eiffel Trocadéro.
Here, it all started just from a simple tweet. Whilst looking for a hotel with a view of the Eiffel Tower, the young lady discovered Green Hotels Paris, and straight away she was interested in this group interested in ecotourism. So it was logical that the Princess set up home for a short stay at the Eiffel Trocadéro Hotel, "perfectly situated for a lover's getaway or for a tourist trip…a stone's throw away from the Eiffel Tower and close to the Champs-Elysées."
Thrilled by the place, she didn't hesitate to notice how we support sustainable development and of the protection of the environment. From The botanical walls to the arches made from recycled paper, in passing by the towels, dressing gowns and organic cotton sheets, a minor detail from the analysis of her article! An amateur of good things, she equally notes the Jardins du Trocadéro, the restaurant-bar of the hotel has just opened, serving French cuisine with an asian influence, and all entirely made using products from fair trade and organic farming.
But what she likes best about downstairs in the hotel is the stunning view that stays with you of the dame de fer, that is possible to see from certain bedrooms and especially from your bed, accompanied by an organic breakfast decorated with fruit platters, a variety of jam with reduced sugar.
It was a real pleasure to welcome her to ours, and the kindness of what she had to say was a real treat for our team. Thank you Princess Zaza and come back whenever you want!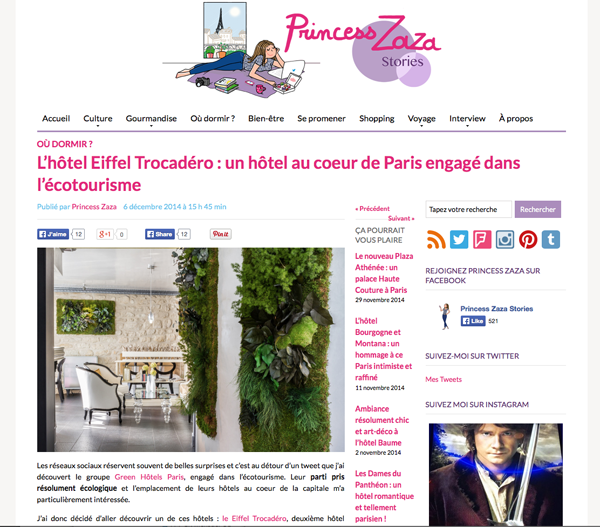 Screen shot from the article on the blog of Princess Zaza about the Eiffel Trocadéro Hotel
Eiffel Trocadéro Hotel
35, rue Benjamin Franklin
75116 Paris
France
Tel: +33 (0)1 53 70 17 70
Metro: Trocadéro (lines 6 and 9).