Exhibition: Mayas, revelations on an endless time
---
The Musée du quai Branly welcomes an exhibition about one of the most fascinating civilisations in History: The Mayas. Through their sculptures, frescos and their architecture, this temporary retrospective offers a discovery of their habits and shows the cultural diversity which existed between the different groups. The public can also discover ceramic vases and constructions that demonstrate a part of the life within a community, and more over, their religious beliefs and other rituals. Mayas, revelations on an endless time also reveals the relationship of this population with nature and their funerary rites, all whilst exhibiting their ingenious creativity that is no longer in doubt.
Exhibition "Mayas, revelations on an endless time", from the 7th of October 2014 until the 8th of February 2015.
Open on Monday, Wednesday and Sunday from 11am to 7pm, and on Thursday, Friday and Saturday from 11am to 9pm.
Prices: from €10.70 to €17.70.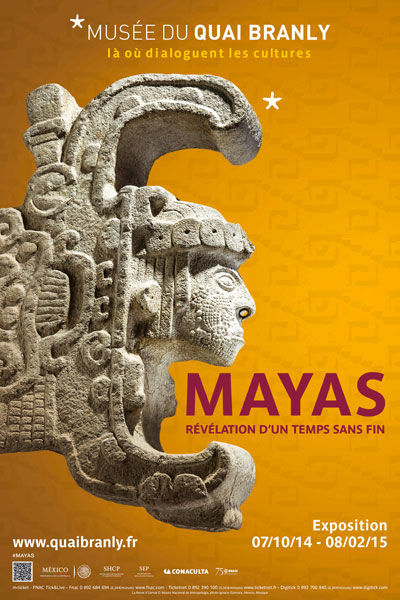 Mayas, revelations on an endless time- DR
Musée du quai Branly
37, quai Branly
75007 Paris
France
Tel.: +33 (0) 1 56 61 70 00
Access: Pont de l'Alma (RER C).