Exhibition: Goldo Expo
---
The Galerie Sakura in the Marais welcomes the work of 10 artists, photographers, visual artists and sculptors, who pay homage to Goldorak. It's at the end of the 1970s that France discovered the way of the Club Dorothée this type of animated Japanese design. The success was instant, and for a good reason, the children saw for the very first time manga on television, visually incredibly different from the programs that they were used to watching. The robot of light and steel is reinterpreted in different forms like this "goldo-foetus" by the French Alexandre Nicolas who humanised the super-heroes, or the French urban artist Pimax who gives himself a pop side dressed all in gold. This free exhibition is available to discover until January the 17th 2015, with all the family.
Exhibition "Goldo Expo", from the 5th of November 2014 until the 17th of January 2015.
Open on Tuesday to Friday from midday until 8pm, and on the weekend from 11am.
Free entrance.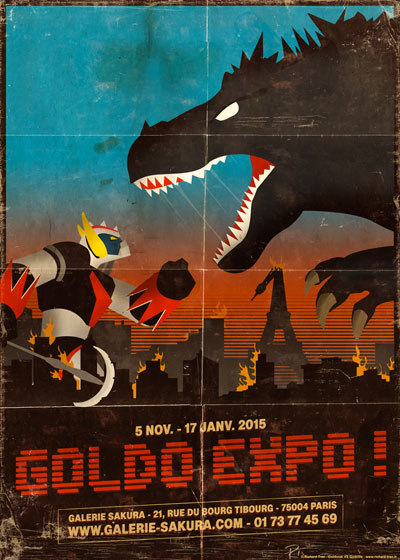 © Galerie Sakura - Exhibition poster Goldo Expo
Galerie Sakura
21, rue du Bourg Tibourg
75004 Paris
France
Tel.: +33 (0)1 73 77 45 69
contact@galerie-sakura.com
Metro: Hôtel de Ville (lines 1 and 11) or Saint-Paul (line 1).