Bon pour le climat: the Chefs at the time of COP21
---
A few days from the opening of COP21, the Green Hotels Paris were keen to show you a non-profit organisation which proposes a solution to climate imbalance: Bon pour le climat (Good for the climate). This label gathers restaurant owners, hoteliers, and consumers ready to change their food habits by applying some rules daily. Eat local and seasonal products, by preference vegetables; there are the organisation's three principles. They will enable to reduce the global greenhouse gas emissions of 15%!
An accurate charter to eat and cook differently
Bon pour le climat has put in place a charter in particular for restaurant owners, in order to give them all the methods to cook differently. Cooks commit to propose a complete menu (starter-main course-dessert) which respects these three precepts. Products used must come from provision's local distribution channel, in other words, from less than 124 miles around the restaurant. Vegetal proteins must be favoured, as well as fishes, crustaceans or poultries instead of red meat. The only exception to the rule is products called "Marco Polo", as tea, coffee, chocolate or spices which are not concerned by this locality principle. Chefs also have to make the carbon footprints of their dishes, waste sorting and serve appropriated portions in order to avoid any food wastage, and even offer vegetarian dishes. They can involve their team, by instilling them the correct gestures to make in their daily professional tasks.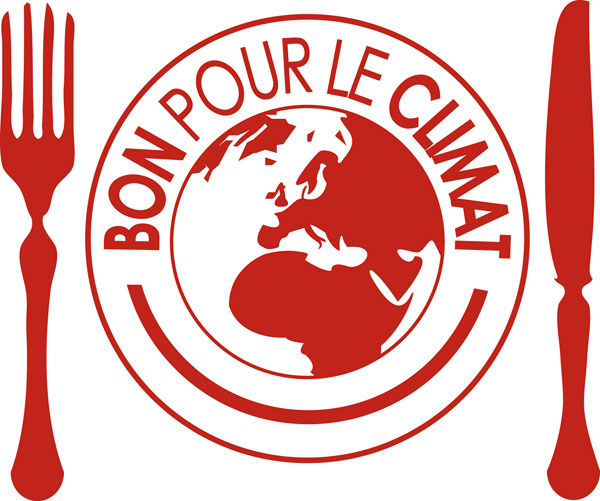 Bon pour le climat organisation logo © Bon pour le climat Facebook
On the organisation's website, some Chefs propose ideas of "recipes good for the climate", to replicate at home. An interactive menu also enables to see at a glance the approved restaurants in Paris, but also in France. Nearby the Green Hotels Paris, you can have dinner at the Chalet des Iles in the 16th district, or at Florimond and at l'Affriolé in the 7th, very close to the Eiffel Tower.
Discover Bon pour le climat organisation.
Know more about the charter for the restaurant owners (in French).