COP21: 3 arty and green installations you should not miss
---
While the COP21 will soon open its doors at the Bourget, from November 30th to December 11th 2015, artists also mobilise against the global warming. In Paris, numerous artistic and green installations have been set up. Three of them held our attention.
1/ Earth Crisis by Shepard Fairey, at the Eiffel Tower
The « Earth Crisis » giant sphere has been conceived by Shepard Fairey, also known as OBEY. Hanging between the first and the second floor of the monument, this work symbolises the harmony with nature, but also the threats which hang over our environment. The American artist chose blue and green to remind the colours of water, air and vegetation. The sphere, which weighs 2.3 tons and heights 8 in diameter, is visible until November 26th 2015. Its role is to provoke a collective realisation. This project has been initiated by the Itinerrance gallery.
"Earth Crisis", from November 20th to 26th 2015.
Eiffel Tower admission: from €7 to €17.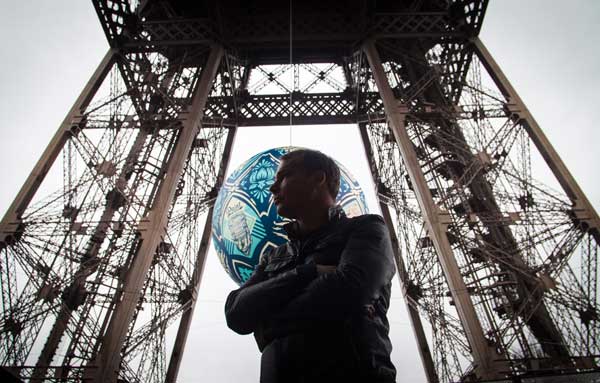 Earth Crisis by Shepard Fairey at the Eiffel Tower © Aline Deschamps – Itinerrance Gallery
La tour Eiffel
Champ de Mars
5, avenue Anatole France
75007 Paris
France
Tel: +33 (0) 892 70 12 39
Metro: Bir-Hakeim (line 6), École Militaire (line 8), and Champ de Mars–Tour Eiffel (RER C).
2/ Radical Action Reaction by Ackroyd & Harvey, at the jardin des Plantes
On December 3rd next, the jardin des Plantes will host a monumental work by British artists' duo Ackroyd & Harvey. An oak surrounded by a living green drapery will be on display in front of the Muséum national d'Histoire naturelle (national Museum of natural History). It will symbolise the significance of tree planting in towns, in order to protect them and their citizens against climate imbalances. Indeed, scientists proved that a rise of 10% of the Earth's ground cover could maintain the increase in temperatures below the threshold of 39.2°F, until 2080. Radical Action Reaction also predicts a ceremonial tree planting.
"Radical Action Reaction", on December 3rd 2015.
Free.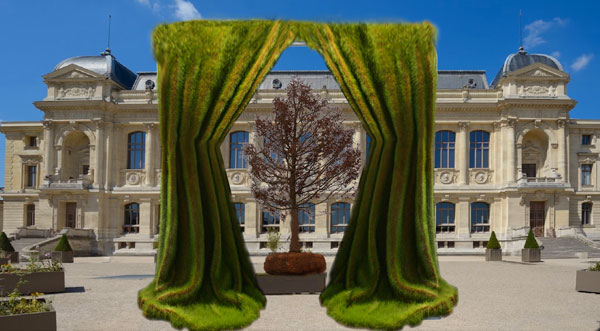 Copyright: Ackroyd & Harvey
Jardin des Plantes (in French)
2, rue Buffon
75005 Paris
France
Tel: +33 (0)1 40 79 56 01
Metro: Gare d'Austerlitz (lines 5, 10, and RER C).
3/ L'eau qui dort Michael Pinsky, at La Villette
Le parc de la Villette hosts the installation of Scottish artist Michael Pinsky, called "L'eau qui dort", in front of the géode. It stages a forty-something objects retrieved in the canal de l'Ourcq, discarded here by the residents. Trolleys, bikes, cans, these domestic wrecks turn into floating and musical objects, in a ballet both poetic and unusual. The work plays two roles: it cleans the canal while making the passers-by think about the fight against pollution. Even if the canals are above all else historical and sustainable lines of communication, they remain the favourite place of some people who wish to get rid of their bulky items.
"L'eau qui dort", from November 25th 2015 to January 3rd 2016.
Free admission.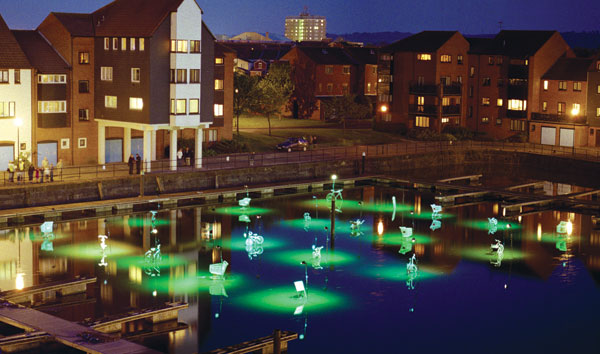 Michael Pinsky - L'eau qui dort © Ian Beech
Parc de la Villette
211, avenue Jean Jaurès
75019 Paris
France
Tel: +33 (0)1 40 03 75 75
Metro: Porte de Pantin (line 5).