Belib': the new electric charging service of Paris
---
Paris keeps going with its new resolutions. Since last January 12th, the capital is equipped with several charging stations for electric vehicles, in order to promote the electric mobility and thus, to fight against pollution. The particularity of these machines: they have a power of 22 KW (kilowatt) whereas the Autolib' vehicles only propose 3KW. These new generation machines are universal and thus enable to charge all vehicle types (cars, delivery vans, two-wheelers).

© Ville de Paris, Bernard Pedretti
How does it work?
Each one of them has three charging points: two fast charging points allowing you to recharge a vehicle in 1 hour, and one basic charging point allowing you to recharge a vehicle in 6 to 8 hours. "The main constraint on electric mobility development is the vehicles' charging time, that is why we thought it necessary to set up fast charging stations, enabling to fill up in one hour", announces Christophe Najdovski (Europe Ecology –The Greens), Mayor of Paris Anne Hidalgo's deputy mayor for transports. Another asset for the Belib' stations: the price. Indeed, the amount of a fast charging is only 25 cents per fifteen minutes and the night charging is free. To access these machines, you only need to choose a subscription on the Belib' website. A badge is then sent to the user. Among the 180 charging points which will be deployed in town in 2016, two are available nearby the Green Hotels Paris – the Eiffel Trocadéro and the Gavarni – avenue de la Grande Armée and avenue Victor Hugo, in the 16th district.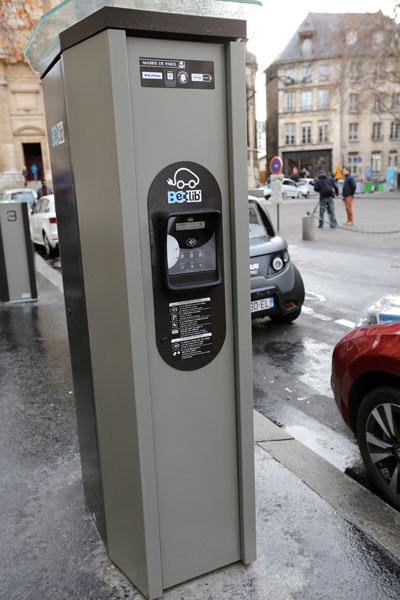 © Ville de Paris, Bernard Pedretti
This is a good initiative of Paris city hall which will make easier the use of electric car in town.
Know more about Belib'. (in French)