Exhibition: Volez, Voguez, Voyagez – Louis Vuitton
---
Until February 21st 2016, the Grand Palais offers to discover the story of the Louis Vuitton famous maison of leather goods, throughout the "Volez, Voguez, Voyagez" ("Fly, Sail, Travel – Louis Vuitton") retrospective. Divided in nine parts, this free exhibition shows the brand's founders, and notably Georges Vuitton. He revealed the brand to the large public during the 1900 Universal Exhibition, thanks to an ingenious presentation. Responsible of the "Travel items and leather goods" stand, he sets up a carrousel where the most innovative bags and luggage created by Louis Vuitton are exhibited. This is the beginning of success. This event organised near the Green Hotels Paris, the Eiffel Trocadéro and the Gavarni, presents pieces loaned by the Palais Galliera, current Paris's Musée de la Mode. In a staging orchestrated by Robert Carsen, we travel from 1845 to today, to the discovery of all the know-how of the brand with monogram.
"Volez, Voguez, Voyagez – Louis Vuitton" ("Fly, Sail, Travel – Louis Vuitton") exhibition, from December 4th 2015 to February 21st 2016.
Open on Monday, Thursday and Sunday from 10am to 8pm.
Nocturnal on Wednesday, Friday and Saturday until 10pm.
Free admission.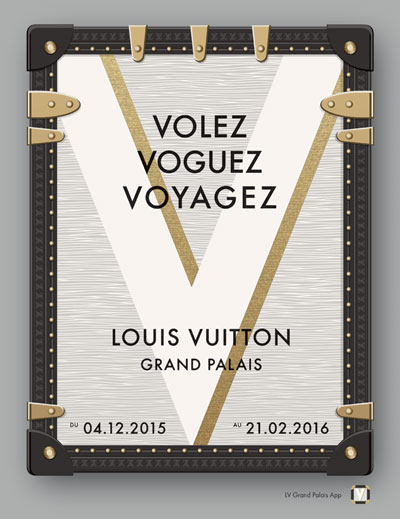 © Louis Vuitton Trunk-maker
Grand Palais
3, avenue du Général Eisenhower
75008 Paris
France
Tel: + 33 (0)1 44 13 17 17
Metro: Champs-Elysées-Clemenceau (lines 1 and 13) or Franklin Roosevelt (lines 1 and 9).