VinSurVin fait salon on the Péniche Le Marcounet
---
Here a perfect occasion to combine gastronomy and ecological engagements by taking part in the 3rd edition of VinSurVin fait salon. This event offers you a tasting of organic, bio and natural wine from small vineyards in France, who will be there to meet at the event. Over two days, the 22nd and the 23rd of November 2014, VinSurVin will welcome the participants to the Péniche Le Marcounet, in a jazzy and relaxed atmosphere. The meetings will be held with professionals from the regions for a better understanding on the work of a vigneron, the ingredients of the wine, or even the vineyard itself. Several of the biggest French wine regions will be represented like the Loire, the Languedoc or the Champagne, as well as the Beaujolais and Saint-Emilion.
VinSurVin fait salon, from the 22nd-23rd November 2014.
Open from 11am-6pm.
Entrance : 10€.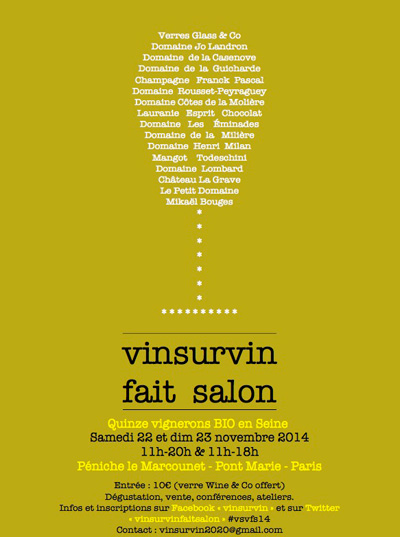 Péniche Le Marcounet
Port des Célestins
14, quai de l'Hôtel de Ville
75004 Paris
France
Métro : Pont-Marie (line 7) ou Saint-Paul (line 1).